The father of Chelsea captain John Terry called an Asian man a "f***ing Paki" during an attack in which he headbutted him, jurors at the Old Bailey have heard.
Ted Terry, of Grays, Essex, who was last year charged with racially aggravated assault and causing racially aggravated fear of violence, appeared at the Old Bailey accused of headbutting the man during a drunken brawl in March 2013.
The court was told that the 59-year-old was wearing a West Ham coat when he allegedly attacked Amarjit Talafair in an argument over a cigarette at around 8pm at Fenchurch Street, central London, after a drinking session with friends.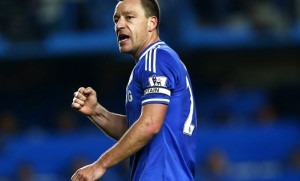 The Old Bailey was also told how Terry then allegedly confronted a black train station cleaner and threatened him with a bottle while shouting: "I will smash it over your head you black c**t."
The father of the former England captain John Terry later told police that he "pressed his head" at the victim and denied using racist language
Terry and his friends Tudor Musteata, a 47-year-old Russian, and Stephen Niland, 36, had been drinking for several hours before the confrontation, the court heard.
Musteata, of southeast London, and Stephen Niland, of Romford, Essex, were also charged with causing racially aggravated fear of violence.
All three men deny the charges. The trial continues.