Daily Mail Sexism Row: Should Esther McVey Defend the 'Downing Street Catwalk' Comment?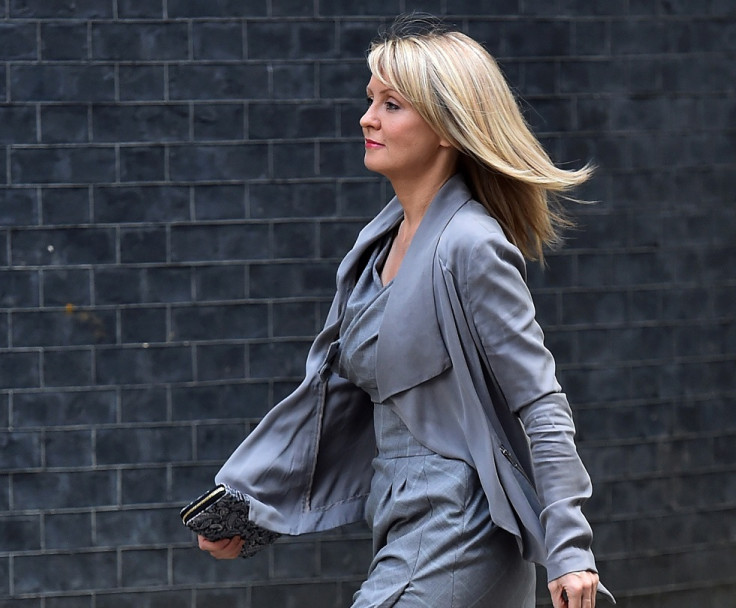 Shortly after the promotion of several high-flying female MPs during David Cameron's Cabinet reshuffle, the Daily Mail's front page headline read: "Thigh-flashing Esther and the battle of the Downing St catwalk." Inside the paper, the bleakly predictable double-page spread then took to dissecting the outfit choices of the new ministers.
Esther McVey was advised to "tone it down a little for attending cabinet meetings" – as her dress had the potential to make politicians hot under the collar. Her appearance was then dissected piece by piece. Shoes? Made her legs too long. Handbag? Too "dated". McVey's hair? A success for its "movement and volume", apparently.
Sexism towards female politicians is nothing new and neither is sexism in the media. McVey and her eight political colleagues are reduced to nothing more than coat-hangers, rather than women of power. Nonetheless, the Employment Minister, who was handed a small promotion on Monday allowing her to attend Cabinet, diplomatically dismissed the comments.
"All I can say is it's fantastic having women in powerful positions in the newspapers, and if that meant that we were walking – you might call it, or the papers might have called it, the catwalk – we were walking into Number 10 Downing Street there," she said, adding that glamorous female politicians may inspire young girls into a career in politics.
While McVey is absolutely right to advocate powerful women, it is disheartening to think that the only way to encourage young women into politics is by appearance. Only 22% of UK MPs are female, and even after Cameron's window-dressing attempt to win over the female vote in the reshuffle, only five of the 17 full Tory Cabinet members are women.
Female representation in parliament is still incredibly low, and in a political age where female politicians are continually sidelined in favour of old Etonians, numerous issues affecting women go unaddressed. Welfare reforms disproportionately impact women, and gaps in the law around domestic violence still enable perpetrators to avoid prosecution.
It is hard to imagine the Mail's article would do anything to encourage political aspiration. It advocates a 1950s view of women – to look pretty and be quiet, and leave the important jobs to the men. It reduces successful females to nothing more than a skirt, and the disapproving tone of piece widens the gulf between the way male and female politicians are treated.
Has Nick Clegg ever been described as "sashaying" into No 10? The Deputy Prime Minister cunningly used this debate on 'Cameron's Cuties' as a chance to have a sideswipe at the Daily Mail in his barbed tweet.
The other eight politicians also received similar treatment. Liz Truss, the incoming environment secretary, was dubbed a "little bit too Eighties air hostess". Anna Sourby, the new Under-Secretary of State for the Ministry of Defence, was likened to Thatcher for her "helmet hair". And so on.
Powerful figures are a rare sight in Westminster and the article does nothing to inspire women into embarking on a political career. Cameron has been frequently lambasted by Labour for his commitment in 2009, that if elected, he wanted a third of his minister to be female. To meet this target, the prime minister would have to appoint 41 female ministers, and after the reshuffle, there are just nine. We need more female politicians, but it is going to take more than glamour.
© Copyright IBTimes 2023. All rights reserved.