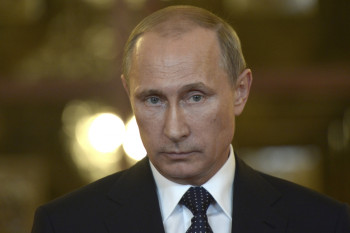 The Dalai Lama has criticised Russian President Vladimir Putin as a "self-centred" autocrat whose actions in eastern Ukraine and the former Soviet space demonstrate that he is seeking to "rebuild" the Berlin Wall, according to German media reports.
The Tibetan Buddhist leader said that "while we had become accustomed (to the fact) that the Berlin Wall has fallen... President Putin seems to want to rebuild it. But he is hurting his own country by doing this. Isolation is suicide.
"His attitude is: 'I, I, I," reported the German newspaper, Welt am Sonntag.
He went on to criticise the fact that Putin had already served as Russia's president and prime minister between 2000 and 2012 before being re-elected as President again in 2012.
"That's a bit too much," he said. "This is very self-centered."
He added that, unlike modern China which forced his exile from Tibet in 1959, Russia is not as willing to participate in world politics.
"China wants to be part of the global political system and will be ready to accept the international rules in the long run," he said in the interview.
"I don't have the impression this accounts for Russia and President Putin, at the moment."
The Dalai Lama was not the only religious leader to criticise Putin over the weekend. Patriarch Filaret, the head of Ukraine's Orthodox Church, said that Putin was doing his best to "incite bloodshed and killings" in eastern Ukraine.
He said that Putin "himself tells obvious outward lies: while organising and sending mercenary killers to our countries, he talks about an 'internal conflict' in which he is allegedly not involved".
A ceasefire between Ukrainian government forces and Russian-backed separatists is on the edge of collapse after renewed shelling near Donetsk airport and the port city of Mariupol.
The West is accusing Russia of arming and training rebels in Ukraine's restive eastern regions, a claim which Moscow denies.
UN agencies estimate more than 2,600 people have been killed in the fighting between pro-Russian separatists and the Ukrainian military since April.