Fiona Bone and Nicola Hughes Murder: 'Dale Cregan Hero' Facebook Page Removed from Site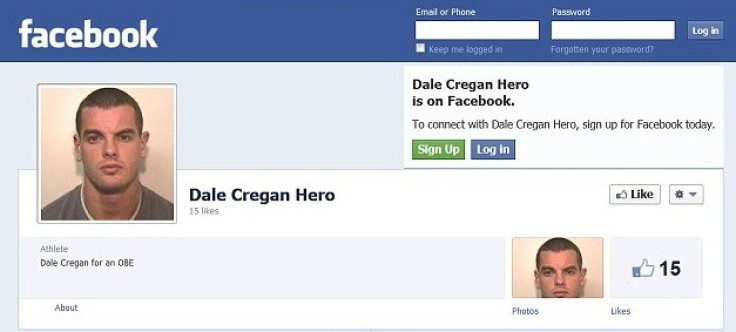 A Facebook tribute page praising the suspected murderer of two police officers in Greater Manchester has been taken down following complaints.
The page, Dale Cregan Hero, was set up a matter of hours after the 29-year-old handed himself in to police after PC Fiona Bone and PC Nicola Hughes were killed in Tameside.
Facebook has confirmed that the page has been taken down because it had violated the companies' statements of rights and responsibilities.
The page described the suspected murderer as a hero and a legend and suggested he should be awarded an OBE.
The page also had several updates including one post saying "So a pair of coppers got killed who gives a f**k?" and another referring to the Hillsborough tragedy which said "Justice for the 96, not the 2!".
The page also featured comments which suggested the suspect "should have blown more of the f*****s up".
A spokesman for Facebook said: "We take our Statement of Rights and Responsibilities very seriously and react quickly to remove reported content that violates our policies.
"Specifically, we're sensitive to content that includes pornography, bullying, hate speech, and actionable threats of violence."
Greater Manchester Chief Constable Peter Fahy had previously said he feared Cregan would be considered a "folk hero" in Manchester. He was already suspected of the murders of Mark and Davis Short and had a £50,000 reward for information which would lead to his arrest on his head.
A similar Facebook page was set up dedicated to Raoul Moat, the gunman who evaded capture for a week in Northumbria in 2010 after shooting his ex-girlfriend and her lover and blinded a police officer before killing himself.
More than 30,000 people joined the group called RIP Raoul Moat.
© Copyright IBTimes 2023. All rights reserved.