Damian Pachter broke the news of Argentine prosecutor Alberto Nisman's death last month, and left the country shortly afterwards. He will be writing exclusive accounts of his experiences over the coming weeks for IBTimes UK.
Dozens of people gathered at the Argentine embassy in Herzliya, Israel on Wednesday [18 January] for the one-month anniversary of the death of prosecutor Alberto Nisman, who perished in mysterious circumstances after accusing Argentina's President Cristina Fernandez de Kirchner of covering up his investigation into the 1994 AMIA bombing attack in Buenos Aires.
Despite the low temperatures that hit the country, people from all over the nation arrived at the meeting point and began a 'silent protest', holding black signs with the prosecutor's name on it, with black masking tape over their mouths as a gesture of silence.
One of those protesters was Susana Waiman, who lost her sister Monica Beatriz in 1976, during the military junta's regime in Argentina. They kidnapped and sent her as a prisoner to the ESMA concentration camp.
She's still missing today.
"I believe that if I had protested then as I am doing right now, her destiny would be different", Waiman said, with an expression of regret and tears in her eyes.
Itay is one of the founders of a Facebook group called 'Yo soy NISMAN' ('I am Nisman', in Spanish), and he shared his thoughts with IBTimes UK minutes after the silent march.
"I came to ask for truth, justice, and punishment of the people involved. There is plenty of proof", the 36 year-old construction manager said.
In addition, he defined the government's reaction to the attorney's death as "grotesque, disgusting and insulting," and assured me: "I am sure it was a murder, they will shut us up no more."
Jose Caro is one of the local leaders of the Latin American Jewish Organization OLEI, and he also believes that Nisman was murdered.
"We've contacted each other through the social networks, with the purpose of pursuing justice. Before, Argentina was a wonderful country; we used to live with our doors open, but now it's being ruled by a Mafia", he affirmed.
According to Caro, the prosecutor was killed by "the secret services, which report and are under the responsibility of the executive".
"All the Latin-Americans should be united, so this will not happen again", he added.
The protest began at 6.00 pm local time, however this was just one of many planned for the day all around the world, from New York to Spain.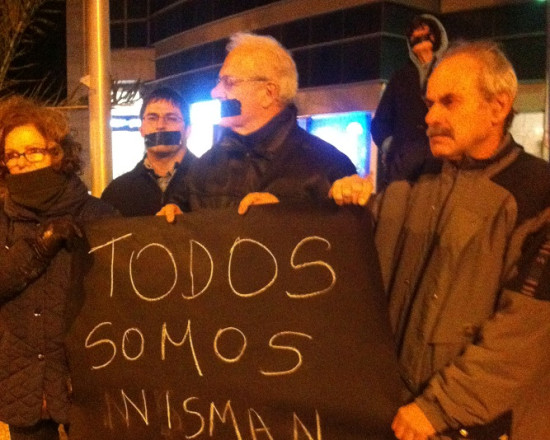 In Argentina, thousands of people began their silent march in Buenos Aires City towards Plaza de Mayo as part of the '18F' (18 February) action, which was organised by the attorney's colleges.
Nisman's former wife, Judge Sandra Arroyo Salgado, arrived with her oldest daughter Lara, and her late husband's mother Sara Garfunkel.
"I was shocked by the amount of people holding a lot of expectation regarding our part in the investigation. I felt accompanied by a lot of people who expressed a message of strength and hope", Arroyo Salgado told Clarín newspaper.
Despite heavy rain in the Argentine capital, thousands were present including politicians and industry leaders.
Argentine newspaper La Nacion ran a picture of the march on today's cover with the headline "Crowds of people under the rain", while Clarín's headline said "Emotional march for Nisman and the truth".
'There was no reason for Nisman to commit suicide'
Earlier this morning, Nisman's wife rejected the suicide hypothesis, explaining her "subjective point of view", in radio statements.
"I don't believe it, because of his personality and because as I understand, he had no motives to do it. Under no circumstance I admit that possibility. Even less after how it was presented, through a weapon", Arroyo Salgado insisted.
She doubted the integrity of the investigation led by prosecutor Viviana Fein, arguing that "there are no guarantees of a fully unbiased investigation. It's important that the result will be one that the public opinion will believe in".
Prosecutor Nisman was found dead in the bathroom of his apartment during the night of 18 January 2015, several hours before he was supposed to attend a Lower House commission in the Argentine Congress.
He accused Argentina's head of state Cristina Fernandez de Kirchner, her Foreign Minister Hector Timerman, another national lawmaker and two social activists of leading a "criminal plan" to cover up the AMIA investigation and reset negotiations, including trade relations between Argentina and Iran.
Nisman believed that Iran was the country behind the bombing attack that claimed the lives of 85 people in 1994.
Damian Pachter is a 30-year-old Argentine-Israeli journalist who has worked for the BBC, AP, the Buenos Aires Herald, and as a correspondent for Haaretz newspaper in Argentina.