Alberto Nisman, the prosecutor looking into all the circumstances surrounding the 1994 bombing of a Buenos Aires synagogue when he was found dead last month, had a draft arrest warrant for President Kirchner in his apartment when he died.
Nisman was investigating links between the Argentine administration and Iran to investigate the bombing, in which 85 people died. The two countries set up a "truth commission" in 2013, but Nisman claimed the governments were working on a deal to drop charges against named Iranians.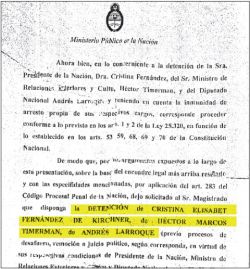 Nisman's body was found at his apartment on 18 January, the day before he was due to provide details to Congress of his case against President Kirchner. He died of a gunshot wound. Government officials claim it was suicide but an investigation by prosecutor Viviana Fein is now underway.
The 26-page document, published online by the Clarin newspaper, was found in Mr Nisman's garbage. Reportedly drawn up in June 2014, it also sought the arrest of foreign minister Héctor Timerman.
Ms Fein at first denied the document's existence, leading to cabinet chief Jorge Capitanich tearing up the Clarin article before reporters. However Fein then had to make a retraction on Argentine radio saying: "The words I should have used are, 'It's evident that there was a draft'."
Both Kirchner and Timerman deny claims they attempted to reach a deal with Iran to lift international arrest warrants in connection with the bombing in return for oil. Kirchner, on a state visit to China, is yet to comment on the claims. However Interpol's leader between 2000 and 2014, Ronald Noble, said: "I can say with 100 per cent certainty, not a scintilla of doubt, that foreign minister Timerman and the Argentine government have been steadfast, persistent and unwavering that the Interpol's red notices be issued, remain in effect and not be suspend or removed."
Kirchner has even claimed Nisman's death may be part of a plot to destroy her government: "They used him while he was alive and then they needed him dead," she wrote on her website. It is not clear to whom she refers.
Political analyst Sergio Berensztein told the New York Times that if carried out the arrest of a serving President would have provoked an unprecedented political crisis in the country. "It would have been a scandal on a level previously unseen."
The journalist who broke the news of Nisman's death, Damian Pachter, fled Argentina last week claiming he feared for his life. He has gone to Israel, claiming that Argentina is "not the happy place my Jewish grandparents used to tell me stories about."
Nisman's death has led to a rise in anti-Semitic sentiment in Argentina, which has a Jewish population of 2-300,000. Posters around Buenos Aires this week read: "The good Jew is the dead Jew. The good Jew is Nisman."