The mystery around the death of top Argentine prosecutor Alberto Nisman has deepened after a colleague admitted to lending him a gun to protect himself against his security guards.
Diego Lagomarsino said Nisman borrowed the gun from him the day before he was found shot dead in his Puerto Madero apartment on 18 January. A 22 calibre pistol was by his side.
Lagomarsino told a news conference that Nisman had told him he feared "for the safety of his daughters".
"I told him, 'Look this (gun) is old, it's an old weapon... I don't know if you will be able to protect yourself with it,'" said Lagomarsino.
"He said to me, 'Don't worry, it's to have in the glove box just in case a crazy person with a stick comes up and says I am a traitor.'"
Lagomarsino has now been charged with giving a firearm to someone who was not the registered owner – the first person charged so far in the investigation.
Nisman's security chief has been suspended and is under investigation along with two other members of his guard.
The prosecutor was buried today in a Jewish cemetery in La Tablada, on the outskirts of Buenos Aires.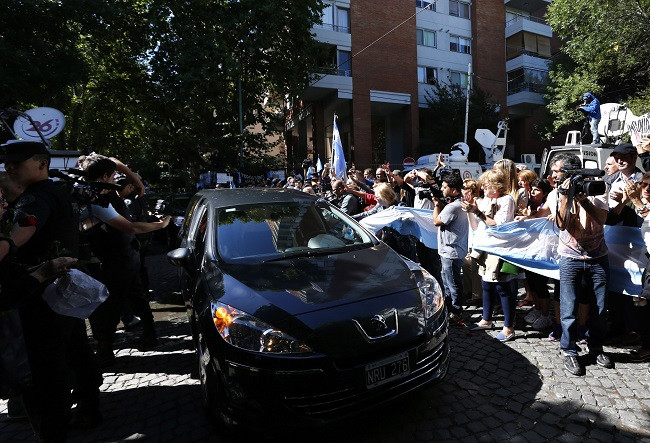 His death has sparked outrage in Argentina from people calling for justice. Investigators believe he committed suicide but have not ruled out murder or 'induced suicide'.
Days before his death, Nisman was due to give evidence in Congress against President Cristina Fernandez de Kirchner in an alleged cover-up involving Iran over the 1994 bombing of AMIA (Asociación Mutual Israelita Argentina) Jewish community centre in Buenos Aires. He had accused Kirchner of trying to derail the investigation.
Kirchner has since defended her position claiming Nisman was duped by false state intelligence witnesses in the case.
She posted on her website: "Nisman's accusation not only collapses, but becomes a real political and legal scandal ... That's the key. Prosecutor Nisman did not know that the men identified as intelligence agents were in fact not."
On Monday she announced plans to fold Argentina's intelligence services and replace them with a new agency.