The mother and step-father of four-year-old Daniel Pelka have been sentenced to life in prison for his murder.
Magdelena Luczak, 27, and her partner Mariusz Krezolek, 34, will serve a minimum 30 years in jail after being found guilty of beating, starving and murdering the four-year-old following a trial at Birmingham Crown Court.
Daniel died from a head injury after "incomprehensible" cruelty at the hands of the pair at their home in the Coventry suburb of Holbrooks on 3 March 2012.
During the trial, a doctor described the body of the emaciated toddler as similar to that of a concentration camp victim. He was starved of food so much over the course of several months that he weighed just over one and a half stone (24lbs) at the time of his death.
He also had more than 30 injuries to his head and body during the sustained abuse which police described as a "pre-planned and premeditated murder".
Judge Justice Cox told the pair they had caused Daniel "severe physical and mental suffering".
She added: "We will never know exactly what form it took because you have not explained it - he must have been absolutely terrified.
"What was handed out to Daniel was incomprehensible brutality by both of you."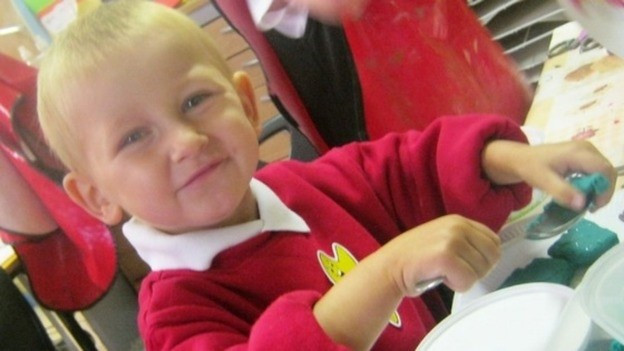 Further medical tests revealed a very high level of sodium in his body, which the investigation attributed to the four-year-old being force-fed salt as a punishment.
He was also frequently locked up in a tiny room without heating with only a urine-soaked mattress, where he was subjected to the horrific abuse and starvation. The pair also submerged the four-year-old in cold baths as punishment.
Both Luczak and Krezolek both denied murdering the child and blamed each other for his death during the trial. However texts between the pair showed were both aware of Daniel's abuse and had connived to subject him to it.
Daniel's death is now the subject of a Serious Case Review by the Coventry Safeguarding Children's Board, which will look into whether social services and police could have intervened.
The review will look at why police or social services were not involved when Daniel's school had noticed the child with bruising on his neck and what appeared to be two black eyes.
Daniel's mother also told the school not to feed him as he was suffering from a rare eating disorder, meaning he would often steal food from other children or rummage through school bins.
Peter Wanless, chief executive of the NSPCC, said: "Seeing the photos of little Daniel, smiling despite everything he was going through, it is hard to believe that anybody could ever wish to do him any harm. That his own mother and her partner colluded to make his short life such a living hell, is even harder to comprehend.
"It is clear that there were adults in Daniel's life who had concerns for his welfare. Magdalena Luczak and Mariusz Krezolek deliberately span a web of lies to cover up their evil abuse and evaded any help they were offered.
"However, once again crucial questions need to be asked about how a youngster slipped through the child protection net with the most catastrophic of consequences.
"The indications that Daniel was suffering for some months should have been plain to see - he was disappearing in front of peoples' eyes."