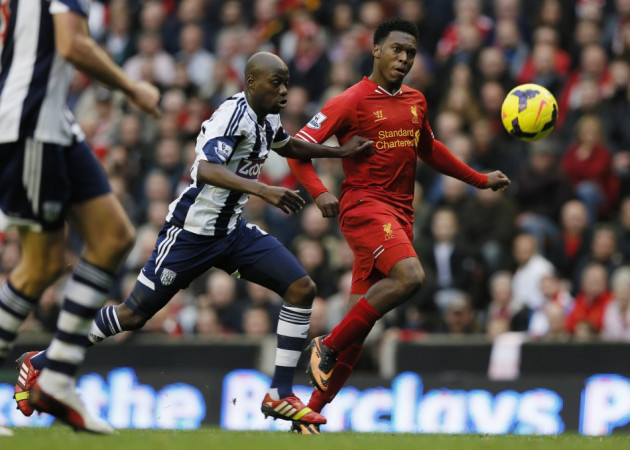 Liverpool manager Brendan Rodgers has lavished praise on striker Daniel Sturridge after the England striker's brilliant chip crowned victory over West Bromwich Albion.
Luis Suarez scored a breath-taking hat-trick but was forced to share the headlines with Sturridge who netted a superb fourth with a cheeky chip over Baggies goalkeeper Boas Myhill.
The pair are the highest scoring players in the Premier League in 2013 and their partnership is being described as the most potent in the top flight. Despite Suarez's treble, Rodgers says Sturridge's finish was reminiscent of Kenny Dalglish in his Liverpool pomp.
"I think the front two were brilliant," the Liverpool boss said.
"Suarez's (first) goal was exceptional. We really exploited the space in front of their centre-halves, it was wonderful invention and creativity to nutmeg Olsson and he took his shot really early.
"The second goal was a good team goal. We moved it well, the cross came in early and he's guided the header in fantastically well and then obviously his third goal is off a great ball by Steven.
"He could have had more - he hit the crossbar and had some other opportunities in and around the area.
"It was his first hat-trick here at Anfield and I think you've seen his commitment to the team and what we're trying to do.
"It was a wonderful performance and Daniel Sturridge's goal you used to see goals like that here many years ago with top players, quality players scoring those type of goals. Kenny (Dalglish) and what not.
"That type of goal today was incredible. It was a great performance right the way through and it's very pleasing."
Sturridge has scored 23 goals in all competitions this year and is now firmly first choice for both Liverpool and England.
The 24-year-old has firmly installed himself as first choice alongside Wayne Rooney ahead of next year's World Cup and has made a significant improvement since moving from Chelsea in the last January transfer window.