AS Roma midfielder Daniele de Rossi has confirmed he will stay with the Serie A giants following reports over a potential move to Manchester City.
Representatives from the Premier League champions were understood to have met with the Italian international's agent last week concerning a potential move to the Etihad Stadium
But De Rossi has dismissed the speculation concerning City and insists he will stay with Roma amid rumours he asked to leave the Serie A giants.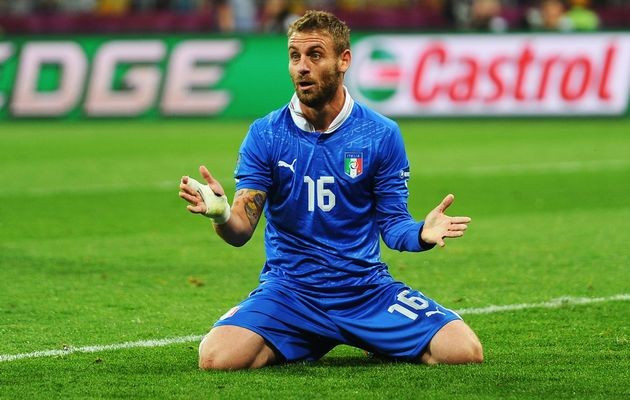 "I'm staying here, I feel good here, and I never asked anyone to leave," De Rossi said
"People have written all sorts of things, about me, about Mancini. Some of it makes me laugh. Some of it makes me angry.
"I promise you if I ever decide to leave Roma, whether to win the Champions League or to make more money which I doubt, I'll just come out and say it.
"I decided to talk today, but it wasn't my intention to talk about an offer from Manchester City.
"I can tell you the truth. I came to do a classic press conference before the season. I wanted to make a clarification," he added.
"For me it's important to say my piece. I am here at Roma, I'm happy and I never asked to leave.
"This is a normal press conference for me to talk about this season, not an announcement of World War III"
"One club, the one you all know, made an enquiry. One or two others, but that was just talk."
"I don't know if club still want to sell me. I'm guessing they count on me since they gave me huge contract in February. Ask them.
"When, during the extension of my contract, I asked for more money, I said it without hypocrisy. But I repeat I never asked to leave."
The 29 year old joined Roma as a youngster aged 17, and after taking 12 months to make his first team debut, was quickly installed as valuable member of the club's midfield.
Currently Roma's vice-captain, De Rossi has never won a major domestic title, and in rejecting City has potential turned down an opportunity to claim a top flight winner's medal.
Roma have won three Serie A titles in their history, but not since 2001, while City won their first title for 44 years last season, a victory which is expected to spark a dynasty in the blue half of Manchester.