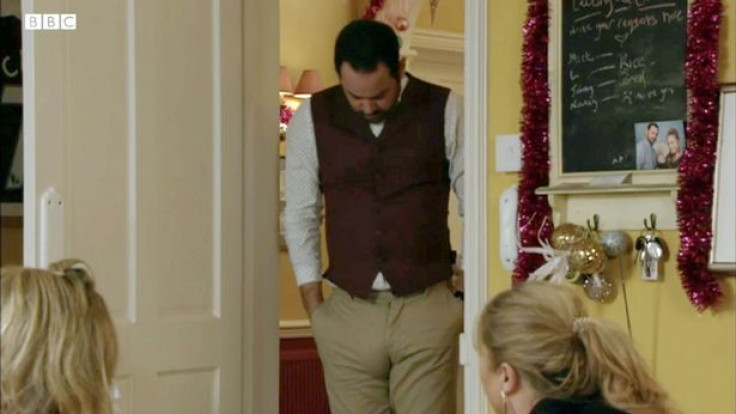 Danny Dyer sent Twitter into meltdown on Tuesday night's (20 December) EastEnders after particular attention was paid to his southern regions.
The soap actor – who plays tough guy Mick Carter – got his on-screen counterparts blushing as wife Linda Carter and Sharon Mitchell were minding their own business, having a chinwag in the Queen Vic kitchen.
Requesting the ladies' opinion on his super-tight trousers he planned on wearing to the Christmas play, Carter appears in the kitchen before asking: "I think these are a little bit tight, don't you?"
Being forced to observe his prominent bulge, Sharon joked to Linda afterwards: "So the rumours are true!"
The comic scene invited 'Enders fans to comment in their masses on Dyer's 'package', with one Twitter user writing: "Looks like Danny Dyer was packing tonight in @Eastenders what he was packing is a mystery" as another wrote:" Couldn't miss it, pretty much filled the entire screen."
A third added: "So, @spike_132000 can't keep his eye off @MrDDyer bulging package in his pants! #eastenders".
Another viewer simply wrote: "I'll never stop fancying Danny Dyer," while other tweets were too X-rated to include.
In darker news concerrning the soap, Phil Mitchell is set to be alone this Christmas as he continues to struggle with his liver failure, with things not looking good for his survival.
Ian Beale will also get a fright as he receives a note from his dead daughter Lucy reading: "Merry Christmas From Lucy."
EastEnders continues tonight on Thursday at 7.30pm.