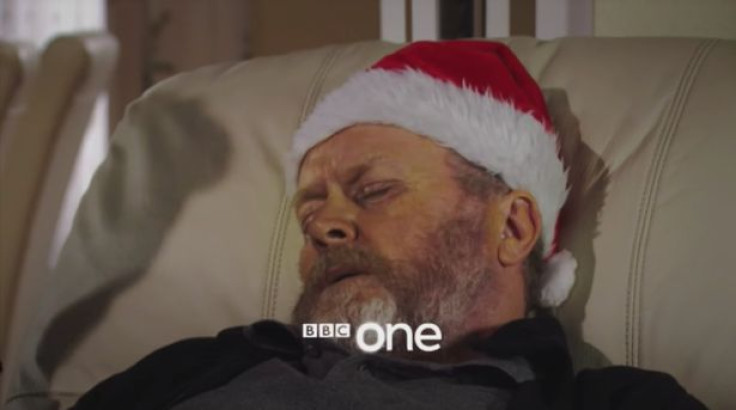 Could it be Phil Mitchell's last Christmas? It most certainly isn't looking too good for the rapidly deteriorating Albert Square veteran, as EastEnders is expected to be more miserable than ever during the festive period.
In a newly released teaser, which has been released a week and a half before the Christmas Day showdown, shows former alcoholic Phil looking worse for wear – and rather like a depressed Santa Claus – as he continues to rapidly go downhill.
Aside from showing Phil at his very worst yet, the 30-second clip also shows the Walford gang celebrating down the pub, The Queen Vic of course. Naturally, an ominous spin is put on the booze-fuelled revelry as Mick Carter, played by Danny Dyer, raises a glass "to absent friends."
Sharon also breaks down in tears as she promises Phil to make his last Christmas the best one ever, as the state of his liver failure due to alcoholism is looking dismal.
Ronnie Mitchell also prepared for her fatal exit from the soap, giving her fiancé Jack a kiss. But his head has been turned to her sister Roxy, who returns home tipsy after a drunken night out.
But the big drumroll is for Max Branning's return, who is played by Jake Wood. Max is set to return to Albert Square for the first time since his release from prison after his false conviction for the murder of Lucy Beale. And upon arrival, the first person he sees is Stacey.
EastEnders viewers don't seem too happy thus far about the Christmas storyline regarding Phil's demise, and are threatening to boycott the BBC1 programme.
One viewer tweeted: "are eastenders seriously going to kill off phil mitchell? not on my watch", as another put: ""They can't kill off Phil. He basically is #eastenders."
A third added: "If they kill phill off eastenders I swear I'll never watch it again".
The EastEnders hour-long Christmas special airs on Christmas day at 9.30pm on BBC1.