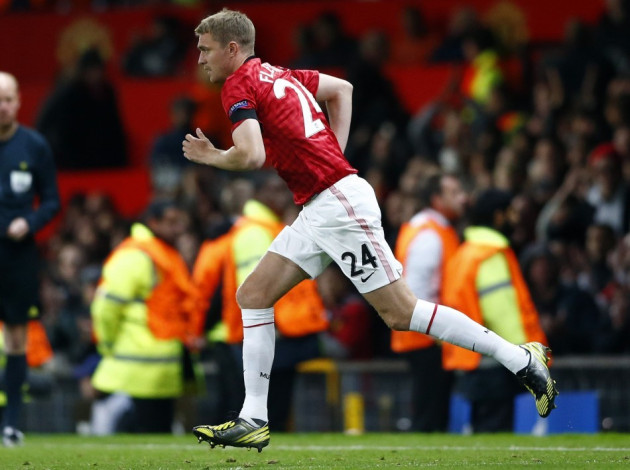 Manchester United and David Moyes have been handed a major boost as Darren Fletcher made his first appearance in 10 months during the U21 game against Fulham.
The Scotland captain has been diagnosed with ulcerative colitis in December 2011. Since then, the 29-year-old has made 13 appearances for United's first team. Fletcher has been a key figure in the Premier League champions' midfield and was an integral part of the squad that won the Champions League in 2008.
Fletcher started the U21 game against Fulham, playing 67 minutes before being substituted. The game ended ina 2-2 draw. The midfielder heaped praise on Moyes for his support as the Scotland international is eyeing to break into the first team.
"He's [Moyes] been liaising with the doctors and speaking to me regularly He's got an important job right now working with the first team, but he's given me all the time I need, he's been a great support and I couldn't ask for any more," Fletcher told MUTV.
"I'm hoping to get a few more U21s games in, obviously I need to finish the 90 minutes and try to work my way into the squad, wait for a chance and I've got to be ready to take it."
The Scot admitted that he is taking it very gently and is in no mood to rush to get into the first team. Moyes would be hoping that his countrymen could still contribute to the club in terms of performance.
"I've been training for a few weeks now and the next progression is to get some match-time. I enjoyed it. The plan was to get to half-time and see how I felt," the midfielder said.
"Then get to 60 minutes and take it from there and, although I felt I could have gone on a bit longer, the plan was not to play more than that so I'm better sticking to the plan and not upsetting the sports science lads."
Meanwhile, Fletcher went on to thank his family for their support on his road to recovery.
"It's been tough but luckily I've got a great family around me, wife, children, mum, dad, sisters, I've got a great family around me and if it wasn't for them I probably wouldn't be standing here today, they keep me going, they keep me motivated and lift me when I'm down. All these factors contribute to me starting here today on the road to recovery."