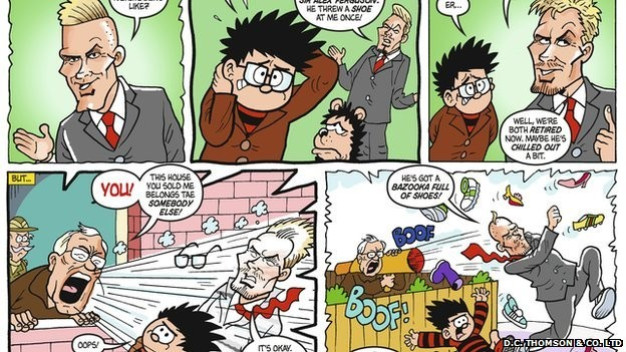 Andy Murray, David Beckham and Sir Alex Ferguson have been immortalised in the 75th anniversary issue of The Beano.
The Wimbledon champion, football ace and former Manchester United manager are among the cast of celebrities making an appearance to mark the comic book's milestone.
Beckham, 38, who played for a decade under Ferguson during his time at Manchester United, is reunited with his former boss in the Dennis the Menace and Gnasher and David Beckham! Strip.
Dennis the Menace will help Golden Balls find a house in Beanotown - only for Beckham to discover he has ended up living next to his old boss.
"The strip with David Beckham and Sir Alex Ferguson is brilliant," Beano editor-in-chief Mike Stirling said.
"Dennis is up to his usual menacing and the results are hilarious. It pokes fun at their history in a lighthearted way and, of course, it's all meant in jest.
He added: "We listen to what our readers say and feature people that they want to read about. I think that the anniversary issue is possibly the most celeb-packed issue we have ever produced."
In the same issue Murray,26, who recently became the first British winner of the men's singles title in 77 years, faces off against Minnie the Minx in a game of tennis.
Craig Graham, the Beano editor, said: "We always planned to include Andy Murray in this amazing issue - but we've reworked the strip to reflect his historic Wimbledon win."
Earlier this month DC Thomson, the Dundee-based publishers of the celebrated title, released a preview of the anniversary edition.
Other celebrities making a cameo include Harry Hill, Sir Bruce Forsyth, Holly Willoughby, Simon Cowell, One Direction and Jessie J.
"Seventy-five years of The Beano is a landmark worth celebrating and we hope that it appeals to readers of all ages," Stirling added.