Beckham Seeks to Follow Legendary United Pair
David Beckham hopes to match the longevity of former Manchester United teammates Paul Scholes and Ryan Giggs in the twilight of his career after signing a five-month deal with Paris Saint Germain.
After ending a six-year stay with LA Galaxy, Beckham has signed a temporary deal with the Ligue 1 leaders but his future beyond the end of the season when the current deal expires is unknown.
Beckham remains a week away from full match fitness according to manager Carlo Ancelotti, with the former England captain having trained with Arsenal following his departure from the MLS, and says despite expecting his opportunities to be limited he was to make a major impact.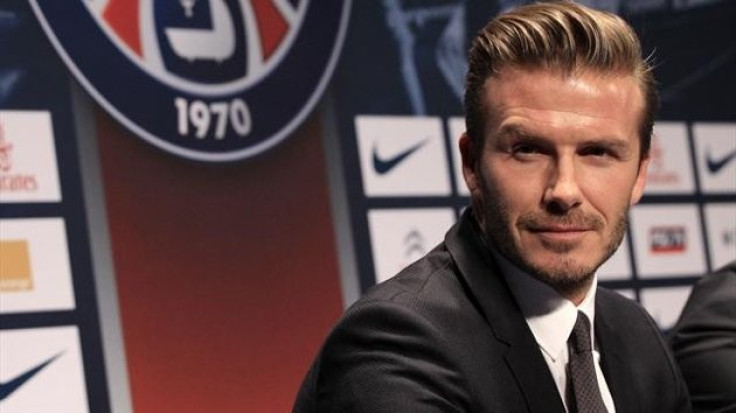 "I might be able to create good things that happen off the field but on the field is where I want to be successful. I want to be a champion and I want to win trophies," he told al-Jazeera and TalkSport.
"That's been my mentality all the way through my career. Your motivation never changes, once you have that motivation in you it continues throughout your whole life.
"Players like Ryan Giggs and Paul Scholes at Manchester United, they don't play every game but when they do play they are big influences in the game. So I am looking to do that to continue to be successful."
"I feel pretty good, it will take me a couple of weeks at least to get up to speed with the rest of the team but I think I have always kept myself pretty fit," Beckham added.
"I have taken time off and trained with Arsenal for a couple of days and once I get in with the team I don't think it will take me long to get up to speed. But I want to get playing as soon as possible."
Since Beckham left United in 2003, messieurs Giggs and Scholes have grown to legendary status at Old Trafford, with the former becoming the club's record appearance maker and the latter having made over 700 appearances now in his second spell at the Premier League leaders.
Both players are yet to sign one-year extension's to their deals at United, with the pair out of contract at the end of the season, but both Giggs and Scholes have shown themselves to be model examples of longevity in the modern game.
© Copyright IBTimes 2023. All rights reserved.