The 1975 and Laura Mvula admit they feel privileged to be nominated alongside the late David Bowie at the Mercury Prize 2016 nominations. The legendary musician received a posthumous nod for his final album Blackstar, which was released in January 2016, just two days before his death.
The Mercury Prize nominations are certainly an eclectic mix this year with Radiohead, Skepta, Kano and Jamie Woon among those receiving nods. British alternative rock band The 1975 have earned their first Mercury Prize nomination with second album I Like It When You Sleep, For You Are So Beautiful Yet So Unaware Of It.
Explaining how it felt to be nominated alongside Bowie, The 1975 singer Matt Healy told IBTimes UK: "It is surreal. I keep saying, it's very humbling just to be invited alongside all these artists." Healy's bandmate Adam Hann added: "It is amazing and lovely to be involved because it's very representative of what's happening right now in music whether it be popular or slightly left field. It's a good day."
It is the second time British soul singer Laura Mvula has been shortlisted alongside Bowie. The musicians were up against each other in 2013 with their respective albums Sing To The Moon and The Next Day. Reflecting on their competition, Mvula said: "The first time with Sing To The Moon, the bookies said it was between me and him, people were like, 'Laura, who?'
"Again to be in his presence – we just did the Royal Albert Hall Proms which was the Bowie tribute – so I feel very much in his world right now. I'm very inspired by his legacy, he is unparalleled. His legacy is infinite and to me he is the ultimate artist. His music is a great reminder to keep being yourself."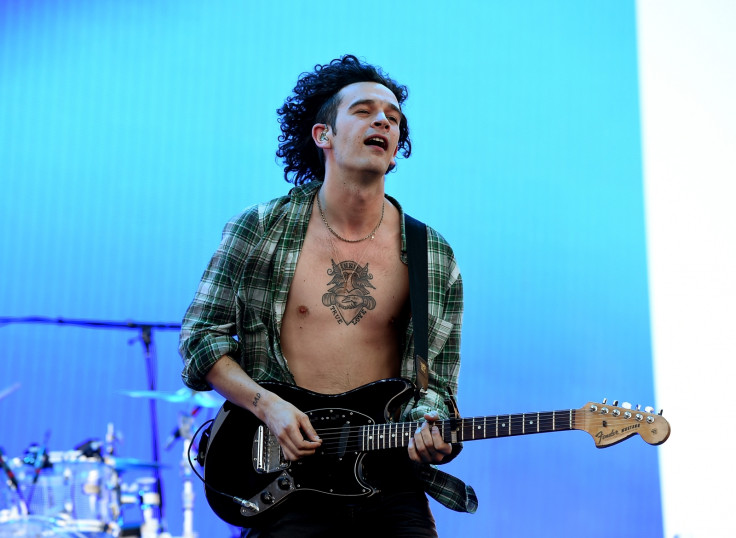 Mvula, 30, is only one of two females to receive a nomination alongside Bat For Lashes. Addressing the lack of gender diversity, the Green Garden singer said: "People are saying it's great and a diverse list but it's a good start. We need to wake up and we have a long way to go with these issues.
"Absolutely, this is something that we can't be too loud about and we should be fearless with having the dialogue and being fierce with that because it is a problem. I don't like sometimes that it can be diluted to this lukewarm, 'Oh, it would be nice to just get an extra one in there'. No, let's be real and face the issue."
The singer, who has been vocal on the diversity issue within the industry, continued: "This is still majorly a male-dominated industry. There aren't many rooms whether it's studio or at the labels where I'm in the room with mostly men, which is not at all accurate to what is possible in music. Most of the people that raised me musically are women. It's not cool that this is still an issue."
Mercury Prize 2016 nominations
David Bowie – Blackstar
Radiohead – A Moon Shaped Pool
Skepta – Konnichiwa
Jamie Woon – Making Time
Laura Mvula – The Dreaming Room
Michael Kiwanuka – Love & Hate
The 1975 – I Like It When You Sleep For You Are So Beautiful Yet So Unaware Of It
Savages – Adore Life
Kano – Made In The Manor
The Comet Is Coming – Channel The Spirits
Anohni – Hopelessness
Bat For Lashes – The Bride
The 1975 have enjoyed a phenomenal 2016 so far with I Like It When You Sleep topping the Billboard 200 chart in the US and the band selling out five consecutive shows at London's Brixton Academy in March. Despite the success of the album, the rockers insist they did not intentionally set out on making a hit. Hann said: "Mercury Prize are two words that never crossed our minds when we were in the studio."
Healy added: "I think we had to step away from that kind of [thinking] because making a second record is a difficult thing to do. We wanted to approach it with the purity we had back in the early days like 10 years ago. We got rid of thinking about industry or critics and we just made a really pure record. That's what's been recognised. It does take courage [to do that] or it takes pure ignorance."
The Mercury Prize 2016 winner will be announced on 15 September during an awards ceremony which will take place at the Eventim Apollo in Hammersmith, London.