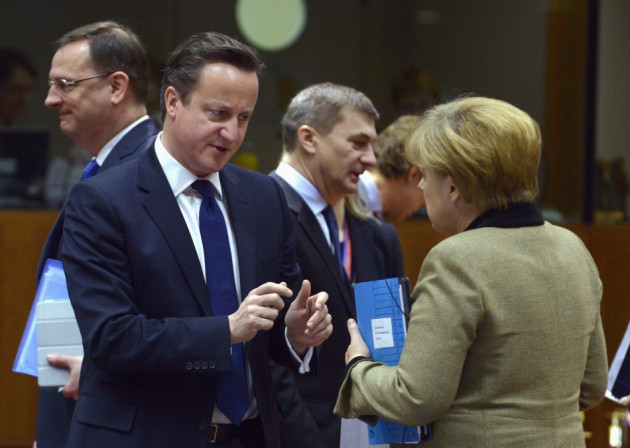 He might not have been delivering the budget, but last Wednesday the Prime Minister made a speech that will have a major impact on British business.
Like everyone else I am worried about the fragile state of our economy. As a result of the Government's failed economic policies, growth has stagnated and unemployment is ruining the life chances of our young people.
This year didn't start any better, with the loss of three well known and well loved high street names in as many weeks (Jessops, HMV and Blockbuster), increasing the fears that we are heading for a triple-dip recession.
So by announcing that if (and it's a big if) a Conservative government is elected in 2015 he will commit to an in/out referendum on the European Union (EU), the Prime Minister has acted to appease his Party's euro-sceptics and not the best interests of the British people.
Sir Martin Sorrell, CEO of advertising giant WPP, pointed out "this is a political decision. This is not an economic decision" and in short it "isn't good news" for business.
Make no mistake, in this difficult time any added uncertainty will undermine our economic recovery.
The same arguments that apply to why Scotland should remain in the United Kingdom are the same reasons the UK should stay in the EU. That is why business leaders from across the country have made it clear that separation from either union will be bad in the long term for Britain's future economic success.
They have warned of the damage the economic uncertainty generated by both referenda will do to our economy, deterring potential investors and undermining the prospects of any sustained recovery.
In these difficult economic times, our priority must be to promote growth at home and secure greater influence abroad. What better place can there be to start doing just that, than the largest and most powerful trading bloc in the world - the EU?
If we are to promote growth at home in an interconnected world, it makes absolutely no sense to question our future membership of the market to which almost half of all UK exports go.
If we want greater influence abroad by investing in our relationships with emerging economies, we need to work with our neighbours in Europe. In Latin America and the Caribbean the EU remains the leading foreign investor, with total Foreign Direct Investment of €385 billion in 2010, representing43% of the region's total FDI.
The recent global financial crisis has brought to the fore some of the major challenges facing the EU. If the Prime Minister is serious about reforming the EU, then he should engage in a proper debate on promoting economic growth, securing effective institutional reform and increasing flexibility over the implementation of European policy.
He should set out a clear agenda for change in these key areas - something he failed to do repeatedly during Prime Ministers Questions in the House of Commons.
From tackling cross-border crime to making sure that British cities remain the financial capitals of Europe, there are so many areas in which membership of the EU has benefited and can benefit our country.
There will always be new ways in which we can make our relationship with the EU work better for Britain, but the Prime Minister should be prepared to have that discussion amongst the country and in the national interest, not because his political strategist tells him it is necessary to protect his leadership.
Economically, what we cannot do is pre-empt that debate by committing to a referendum in several years' time.
Another lesson from Scotland: with a referendum looming, every political debate and every political decision, sadly, gets viewed through the prism of the impending plebidscite.
Last Wednesday the Prime Minister should have joined hands not just with a majority of MPs in the House of Commons, but also the majority of British business, by setting out his plans for reform in the EU and how we can boost our economy.
There are always lessons to be learnt from history - chief among them is that real change can be delivered quickly. David Cameron wants seven years as Prime Minister before he holds a referendum on Europe. Alex Salmond wants seven years as First Minister before he holds a referendum on Scotland. In contrast, Donald Dewar took just seven weeks to deliver a referendum and with it a Scottish Parliament.
Anas Sarwar MP is the Deputy Leader of the Scottish Labour Party and Member of Parliament for Glasgow Central. His father, Mohammad Sarwar, was the first ever British Muslim MP.
Mr Sarwar's website can be found here: www.anassarwar.org and he is also active on Twitter @AnasSarwar.