David Cameron has been branded a "coward" and his reputation damaged by his behaviour over the TV debates as Ed Miliband continued to pile the pressure on the prime minister at PMQs.
The Labour leader continued to press Cameron on a two-way debate between the pair before the general election.
Cameron has agreed to take part in one televised debate between seven party leaders but shot down Miliband's suggestion of a head-to-head showdown.
Miliband claimed the public would "see through his feeble excuses" and called upon Cameron to "show more backbone and show up to debate with me".
"He has been offered a debate and he won't take it", the Labour leader said.
Cameron responded saying he had agreed to debate with Miliband, along with the six other party leaders on the week commencing 23 March.
He added that, unlike Miliband, he wanted to talk about the future of the country, not "the future of a TV programme".
"He has nothing to say on policy, nothing on the economy," Cameron fired back.
"He can only get to Downing Street on Alex Salmond's coat tails. It is an alliance between those who want to bankrupt Britain and those who want to break it up."
The exchanges came after a ComRes poll for ITV News found 59% of people thought Cameron acted cowardly over the TV debates.
The study also revealed 64% of people do not think Cameron wants the debates to take place, while only 15% think he does.
Broadcasters have said they will go ahead with TV debates despite Cameron saying he will only take part in one and the poll showed 63% wanted the prime minister to be "empty-chaired".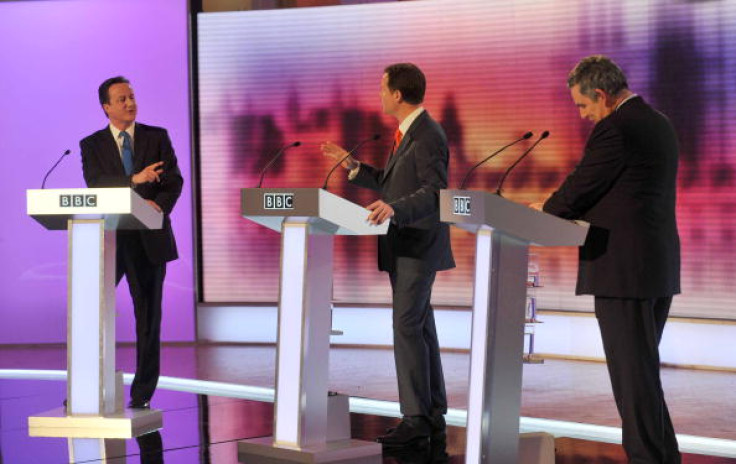 Digital debates
Media groups The Guardian, the Telegraph and YouTube have stepped in to offer more opportunities for debates ahead of the general election.
In letters to leaders of the Conservatives, Labour , Lib Dems , UKIP and the Greens, the groups said they were willing to host a debate on either 26 or 27 March - days that fall before Cameron's cut-off date and are ahead of the so-called "short campaign".
"The Guardian, the Telegraph and YouTube will collectively provide the best possible online platform for such a debate, with direct connections to other election resources and party websites", the organisations wrote.
Ukip leader Nigel Farage seized the opportunity to announce he would be willing to participate in the internet debates:
As broadcasters and media groups look to break the impasse, former BBC, ITV and Channel 4 boss and Conservative peer Lord Grade said broadcasters should "get back in their box".
Speaking on Radio 4, Grade condemned broadcasters' plans to "empty-chair" the prime minister and said they had "grossly inflated ideas of their own importance".