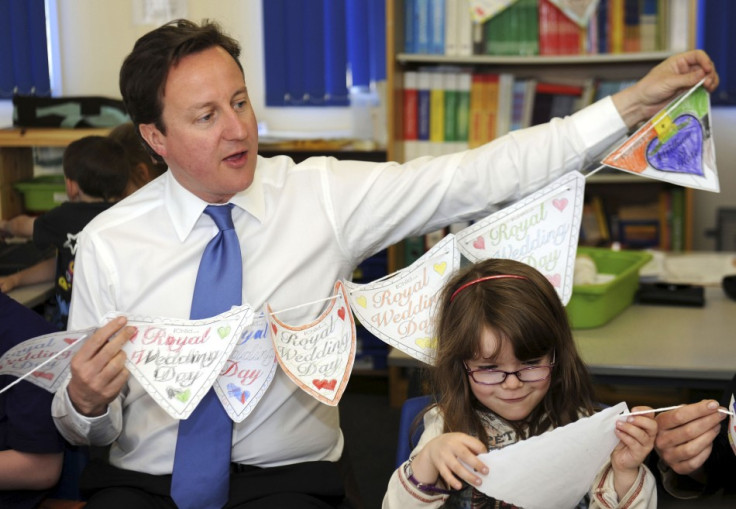 David Cameron has pledged to open a further 500 free schools if the Conservatives are re-elected, despite teachers' unions and education specialists claiming there is little evidence to prove the success of the programme.
The prime minister will promise in a speech to create an additional 27,000 places at the state-funded schools by 2020.
Under the government scheme, free schools are set up by community groups including parents, charities or teachers and operate outside of local authorities.
Cameron will say: "If you vote Conservative, you will see the continuation of the free schools programme at the rate you've seen in the last three years.
"That means, over the next parliament, we hope to open at least 500 new free schools resulting in 270,000 new school places. Remember – we're the only party that is committed to this. The only party that's opening up the education system so we can get more good places for your children."
Cameron is excepted to use research published by the think tank Policy Exchange to back up his claims that free schools "are not only outperforming other schools, but they are raising the performance of those around them".
Policy Exchange argues that since former education secretary Michael Gove set up the programme in 2012, free schools have improved the performances of nearby schools based on exam results.
"The evidence clearly shows that free schools drive up standards of nearby schools , particularly the ones [that] are lower performing," said Jonathan Simmons, Policy Exchange's head of education and one of the report's authors.
"Parents should be given real choice to set up new schools where they want them and where they can show a real plan for delivering good new provision."
However, the data has been criticised by unions and the Labour party as being unreliable and should not be used to suggest the free school programme has been a success.
Henry Stewart, a co-founder of the Local Schools Network, said: "David Cameron is basing a major policy on claims for free schools that are not backed up by his own report. For primary schools, the report certainly does not show that free schools result in nearby schools improving.
"To use these figures to justify more funding of free schools shows a basic lack of understanding of the data."
Kevin Courtney, deputy general secretary of the National Union of Teachers, said: "The samples on which the authors base their recommendations are tiny, as they admit in the report, and can in no way be considered statistically robust."
"The findings claimed by the authors are not supported by the 'evidence' presented in the report itself and the authors themselves admit that no link can be made between the cause and effects that they nevertheless seek to claim for the Free School policy, stating: 'It should be obvious - but bears setting out explicitly - that such data cannot demonstrate conclusively that any changes seen are as a response to the new Free School'."
But Tristram Hunt MP, Labour's shadow education secretary, added: "The Tory plan is failing young people and their parents, with a third of all free schools found to be under-performing.
"Instead of focusing on the desperate need for more primary school places across the country and on spreading innovation right across the school system, David Cameron's government has spent at least £241m on free schools in areas that already have enough school places.
"The result is many more children forced into crowded classrooms - a 200% increase in the number of infants taught in classes of more than 30."