David Cameron defends business with China saying the UK is its 'best partner in the West'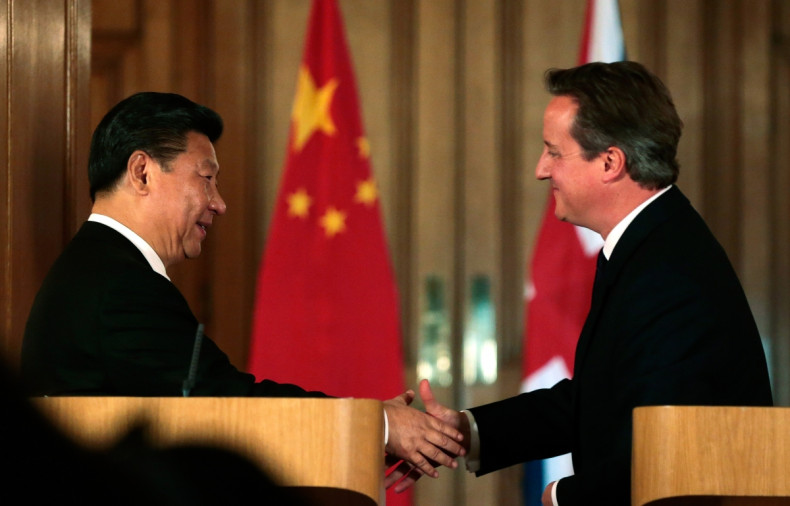 Prime Minister David Cameron has defended the UK's push to take ties with China to a "new level" and revealed that deals to the tune of £40bn ($62bn) have been signed by Downing Street and Beijing. The investment agreements include £6bn ($9.25bn) from state-owned China General Nuclear Power Corporation (CGN) to build a new power plant at Hinkley Point, Somerset.
China's first major investment in a Western nuclear facility has prompted widespread criticism over potential threats - including state-sponsored cybercrime - to the UK's national security by allowing Beijing to have a stake in the country's infrastructure. Brushing aside concerns over an ever-closer union with China on sensitive issues, Cameron said: "I'm clear that the UK is China's best partner in the west".
Hinkley Point's power generation is set to commence in 2025 and will create thousands of jobs. CGN will have a 33.5% share in the £18bn ($28bn) plant controlled by French energy provider, EDF. Other deals include a £6bn ($10bn) liquefied natural gas (LNG) supply agreement between BP and state-owned China Huadian, a £2.6bn ($4bn) deal with the world's largest cruise ship operator, Carnival Corp to build new vessels and a £1.4bn ($2.16bn) deal between Rolls Royce and HNA Group.
Defending the ties between the UK and China, Cameron said: "A strong relationship is in both our countries' interests not just because it brings investment and jobs and higher living standards for our peoples - vital though these things are. The more we trade together, the more we have a stake in each others' success and the more we understand each other, the more we can work together to confront the problems that face our world today.
"Our relationship goes beyond trade and investment," he continued. "China and Britain are both global powers with a global outlook. We share an interest in a stable and ordered world in which countries play by the rules and work together to address threats to our security and to our prosperity." The prime minister added that the UK's exports to China have quadrupled in the past decade and increased by 140% in the last five years, "growing to almost £20bn ($30.8bn) per year".
Having come under fire over the unprecedented cooperation with China and seemingly ignoring its poor human rights record, Downing Street said that Cameron raised these concerns with Xi, but did not provide further details. A spokeswoman for Cameron said: "The prime minister raised the issue of human rights, the importance of countries working together to address issues, to talk about the importance of what this means as countries develop and move forwards."
Addressing the issue of human rights, Xi said: "Coming to the human rights issue, China attaches great importance to human rights. We have found a path suited to China's conditions.
"There is always room for improvement in the world. China is ready to increase co-operation with UK and other countries over human rights," he added.