Jeremy Corbyn indicated he would stick around as Labour leader as he attempted humourous ripostes during David Cameron's final appearance at Prime Minister's Questions on 13 July.
The Conservative benches rose and applauded Cameron and his successor Theresa May as they entered the House of Commons during Welsh Questions – there was even some bonhomie from Corbyn.
He wished the former prime minister, his wife Samantha and their three children well because "while many of us really do enjoy our jobs and our political lives, it is the loved ones nearest to us and our families that actually make enormous sacrifices."
Discussing the PM's legacy, Corbyn praised the release of Shaker Aamer from Guantanamo Bay and the passing of same sex marriage, which he reminded Cameron only got through the house thanks to Labour votes.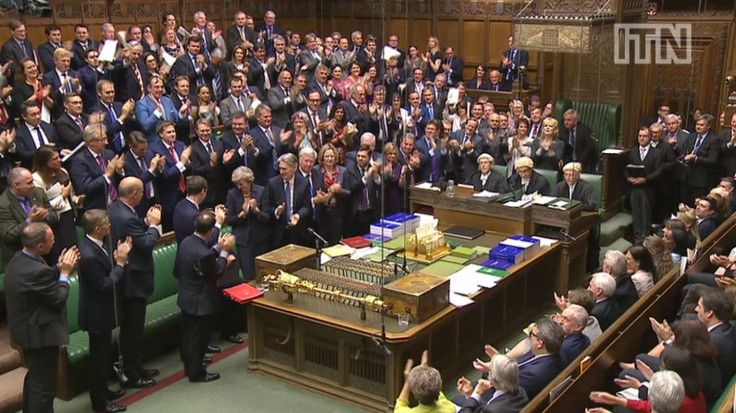 After Cameron lampooned the Labour party's leadership contest saying it would take one year for MPs to find their cabinet seats if they were elected, Corbyn smiled and shot back: "Democracy is a exciting and splendid thing and I'm enjoying every moment of it."
He then used the home secretary's own comments against Cameron quoting her saying: "Many people find themselves exploited by unscrupulous bosses. I can't think who she was talking about."
Cameron compared the leader to the indestructible Black Knight character from Monty Python – "it's only a scratch wound".
Corbyn then used Cameron's final appearance to ask him to "pass on my thanks to your mum for her advice about suits, ties and songs" after the PM memorably told Corbyn to "buy a suit, wear a tie and sing the national anthem" during one of their more feisty exchanges.
In a sign of things to come, Corbyn said he had asked 179 questions to the Conservative leader since he became leader of the opposition in September adding there was "plenty more to come to his successor."
That show of defiance was better received than a prepared joke about Cameron replacing Len Goodman as a judge on the BBC's Strictly Come Dancing, which fell as flat as the Labour benches did when the PM rose at the end of his appearance.