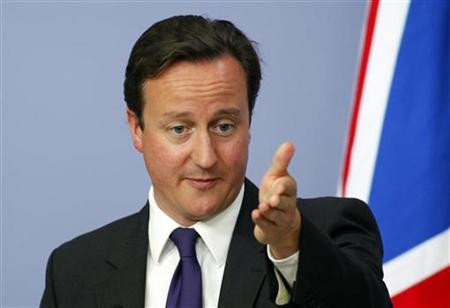 It is too difficult to distinguish Sister John Mary from the rest of the Benedictine sisters at her convent in an isolated farm of 400 acres in the Connecticut hills, three hours north of New York City.
But Laura Adshead, before becoming a nun, was dating David Cameron in the early 90's.
She is a former student of £24,000-a-year Cheltenham Ladies' College and worked at the conservative party headquarters in London along with her boyfriend David Cameron.
She dated Cameron from the spring of 1990 until summer 1991 when she was the correspondence secretary of the then Prime Minister John Major, according to a report in the Daily Mail.
During the period, Cameron was working at the Conservative Central Office.
While Cameron went on to conquer political heights, Adshead moved to the US to pursue her studies at the Wharton Business School in Philadelphia.
Though she became the strategic planning adviser to the advertisement firm Ogilvy & Mather in Manhattan, the stress of success and personal rejection led her to the world of drinking and addiction, reported the Daily Mail.
Later, she decided to follow the rule of St Benedict and became a nun.
"I did think my life would progress on the normal tracks of meeting someone, marrying, having children, but that's not the path that God has led me," the Daily Mail quoted Sister John Mary as saying in a new documentary on her story.
"I feel like I tried most things in life that are supposed to make you happy. That journey took me down into alcoholism and drug addiction," she added.
Her friendship with America's wealthy elite and the flamboyant life style could not bring any good to her except making her slip into substance abuse and alcoholism.
In 2008, she decided to join the abbey and become a nun.
"I remember having to tell my mother, I'm going to join the abbey. I looked at this place and saw women who had what I wanted. You make a decision here to surrender your life to God," she said in the film.
The documentary is titled God Is The Bigger Elvis which refers to the glamorous life of the abbey's Prioress mother Dolores before joining the convent.
Dolores Hart was a Hollywood actress and had even acted with Elvis Presley in two of his films, Lovin' You and King Creole before joining the order in the early 60's.