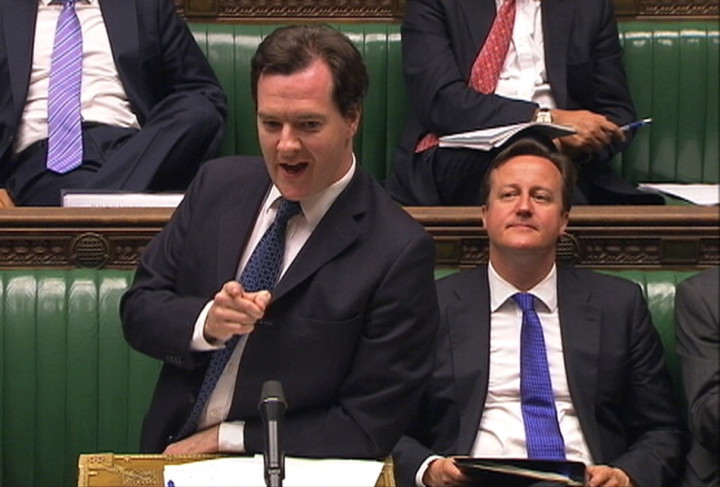 George Osborne is "going nowhere" in the next cabinet reshuffle, despite rumours that he would lose his position, according to the prime minister.
David Cameron quashed speculation over the future of the embattled chancellor, telling Sky News that he would remain in place until the 2015 general election.
"George Osborne is doing an excellent job in very difficult circumstances and he has my full support in doing that," Cameron said. "He is not going anywhere."
Osborne has been on the political back foot since the last budget, with the biggest blow having come in the form of devastatingly poor GDP figures in July.
The chancellor has been haunted by the headlines about the "pensioner tax" and "pasty tax" as his department has come repeatedly under fire for ill-planning and spin.
A classic example was the delayed fuel duty hike, a thinly veiled tax cut for which treasury secretary Chloe Smith received a televised mauling from Jeremy Paxman. Smith's apparent sacrifice by Osborne led many to question his backbone.
Concerns had also been raised that Osborne was being spread too thin with his joint role as party strategist, although Cameron has said he considers this a strength and not a weakness.
However Cameron repeatedly asserted that Osborne, who is viewed by many in the party as a future prospect for the Tory leadership, will stay put until the election.
Why David Cameron Cannot Sack Chancellor George Osborne in the Cabinet Reshuffle
The same guarantee, however, was not given over the future of culture secretary Jeremy Hunt, who weathered a storm of calls for his resignation over his treatment of News International's bid for control of BSkyB. The majority view is that Hunt's position will become untenable once the Olympics have finished.