UK Prime Minister David Cameron has hinted that British air strikes against Islamic State (Isis) targets could be extended to Syria.
Britain joined the US-led military campaign against Islamic State on Saturday, sending two Tornado GR4 jets to Iraq. But ministers were keen to stress that aerial operations would be restricted to Iraq alone.
However on Sunday, Cameron said he was sympathetic to the argument that Isis has to be defeated in Syria as well as in Iraq, and hinted that air strikes in Syria are only being held back by a lack of political consent in Westminster.
"I have a lot of sympathy with that view, which is why I have said we support what the Americans and the five Arab nations have done in Syria," the prime minister said in an interview on BBC1's Andrew Marr Show.
"We have a Syria strategy which is to build up the Free Syrian Army and the Syrian National Coalition to achieve a political transition in Syria.
"But I wanted to take the House of Commons proposals that I could achieve consensus with, to make sure Britain was playing its role in this coordinated action across both parties."
Ground operation
Cameron said a ground operation is also needed to support the Western-led air strikes, but insisted that this should only be coordinated by Iraqi troops.
"We are not trying to defeat Isil [Isis] from the air alone," he said. "We believe you do need troops on the ground, but they should be Iraqi troops; they should be Kurdish troops.
"We are part of a large international coalition to degrade and ultimately destroy this organisation. But it can't be done unless the countries where this organisation has grown up play their part in destroying it."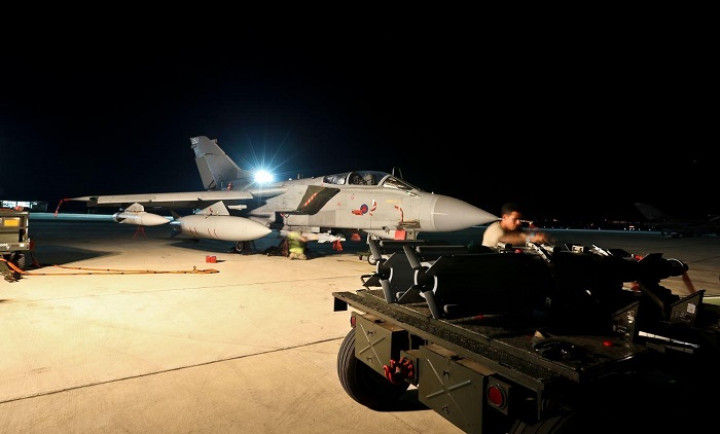 Cameron also rejected claims that a military campaign could result in numerous civilian casualties.
"I do not accept that," he said. "There have been occasions when [Isis] are out in the open, threatening Christian communities, Yazidi communities, other Muslim communities, and they can be struck and stopped, and that's exactly what's happened."
Cameron's comments come after the former chief of the defence staff Sir David Richards said Isis must be targeted in Syria as well as in Iraq.
"You cannot possibly defeat IS by only tackling them in Iraq," Richards told the Sunday Times. "How the hell do you win the war when most of your enemy end up in a country you cannot get involved in?"
Britain's RAF Tornado GR4 bombers returned to their military base on Saturday, seven hours after arriving in Iraq on a reconnaissance mission. The Tornadoes have been flying on missions over Iraq for the past six weeks, but this is the first time they have been authorised to launch air strikes.