Around 400,000 schoolchildren in Britain are being taught by unqualified teachers, according to research revealed by shadow education secretary Tristam Hunt.
Former education secretary Michael Gove introduced the right for free schools and academies to use unqualified teachers in 2012.
But Hunt has drawn attention to the extent unqualified teachers are being used in state-funded schools, making the issue a central campaign in Labour's education policy.
Labour claims the use of teachers who have not received formal teacher training leads to children in state schools being taught by people who have no guaranteed training in safeguarding children, controlling a class or adapting teaching to respond to the strengths and needs of pupils.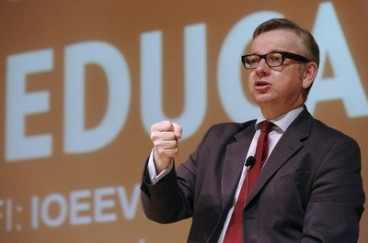 Hunt said the number of unqualified teachers in state schools rose by 16 per cent to 17,100 in the past year. The number in academies and free schools rose by 50 per cent to 7,900 since Gove's legislation in 2012.
The figures reveal around 430,000 children are being taught by unqualified teachers, based on a class size average of 25.3.
Before 2012, people could only be employed as teachers on a permanent basis at a state school if they had qualified teacher status, meaning they had undergone and completed formal teacher training.
Unqualified teachers (such as teacher trainees, some teachers who are trained overseas and people with particular skills but no training such as industry professionals) were permitted to teach only if a school was satisfied they had sufficient qualifications or experience and no suitable qualified personnel were available.
Under the Coalition, the requirements restricting when schools could employ unqualified teachers have been relaxed. Since September 2012, schools do not need to factor in the availability of a qualified alternative teacher.
Releasing the latest research on Monday, Hunt said: "David Cameron's decision to allow unqualified teachers to be permanently employed in schools is seriously threatening standards for hundreds of thousands of children – and the figures are rising.
"Labour will reverse the unqualified teachers policy and put teaching standards first, with our ambition of a world-class teacher in every classroom. We will ensure that all teachers become properly qualified, continue to build their skills and are able to pursue new career pathways that keep the best teachers in the classrooms."