Sections of the media have been getting excited over reports David Cameron is considering sending his son to an £18,000-a-year private school considered to be a "feeder" to his alma mater, Eton. Downing Street was hugely unimpressed with the attention and subsequently complained to the press regulator about the the Mail on Sunday article, citing privacy implications for Cameron's children as the key reason behind the complaint.
The media frenzy was mainly due to comments Cameron had made a few years ago when he described paying for private schooling as "crazy". Initially it seemed that all his children would be educated through the state sector when he became the first serving Conservative Prime Minister to enrol his eldest daughter at a Church of England academy. "If you pay your taxes you shouldn't have to pay all over again," he said. "There is no reason why our state schools can't be among the best in the world, and some of them are".
Despite it all being speculation at the moment, those who are bitterly against the PM sending his son to public school have one overriding complaint: Cameron clearly doesn't think the state school system is good enough for his children but is good enough for everyone else. But that slightly misses the point.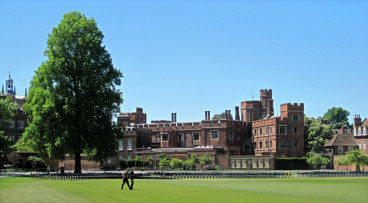 The undeniable truth is that private schools are better. There's a reason why parents pay so much to send their children to these schools. The access to opportunities in academia, music, drama and arts, as well as the alumni network, are essentially priceless and students at these schools tend to be set up for life. Considering both David and Samantha Cameron attended top public schools it's not difficult to understand they are considering sending their son to one.
Before getting irate about Cameron's potential decision, we need to remember that he's stepping down in four years' time. He won't actually be Prime Minister by that time, if his son starts at Eton, and he won't face another election in his career. He finds himself in a unique position: an acting Prime Minister whose position isn't really under threat and has no need to worry about public opinion. Weighing all this up, from his perspective, he doesn't really lose anything by sending his son to the school of his choice and I'm sure he won't bat an eyelid about what anyone else thinks as he makes his decision.
Personally, I don't have an issue with where Cameron chooses to educate his children; my problem lies elsewhere, in the complaint to Independent Press Standards Organisation (IPSO) about the reports. I'm a firm believer in the press having the freedom to print what they want (as long as it isn't slanderous of course).
The general public has a right to know what the PM is doing and about his schooling decisions. As the leader of our country and a public figure, his decisions, even if they are about his children, should be open to public scrutiny. Downing Street's complaint, in my opinion, is an attempt to use the power and influence of the PM to curb freedom of speech.
That in itself is a slippery slope and government having any influence over our press is a genuine threat to the democracy we pride ourselves on. We have a duty to protect our media coverage and Cameron needs to appreciate that he isn't immune to criticism or reporting on his life decisions.
He's also not the only politician to have made the news about where their children are being educated. Jeremy Corbyn apparently split from his former wife after a disagreement about sending their son to a grammar school and had the story all over newspapers. Diane Abbott also faced strong criticism by columnists and her party peers for sending her son to a private school. Politicians have not been immune to this sort of media coverage in the past, so it seems strange that Downing Street thinks the PM should be an exception.
Cameron is free to do as he pleases. If he wants to send his son to a private school – let him. But if the press want to report it, they should be allowed to do so.