David Cameron has said he supports the US air strikes against the Isis (known as Islamic State) militant group in Syria and will enquire about how the UK can contribute.
The US and five "partner nations" from the Arab world launched their air strikes against the militant group with President Barack Obama getting directly involved in the crisis in Syria for the first time since civil war erupted there.
The Pentagon confirmed Bahrain, Saudi Arabia, Jordan, Qatar and the United Arab Emirates also "participated in or supported" the attacks against IS targets.
The strikes, which included warplanes, drones and Tomahawk missiles, targeted the city of Raqqa - an Isis stranglehold ever since it was captured by the group in 2013 - as well as cities such as Abu Kamaal and Hassakeh.
British-based group Syrian Observatory for Human Rights said at least 50 al-Qaida-linked fighters had been killed in the attacks.
Eight civilians, including three children, were also killed during US bombings in the village of Kafr Derian, west of Aleppo.
Cameron, who has ruled out the possibility of sending in ground troops to either Syria or Iraq in the fight against IS, has come out in support of the US-led air strikes.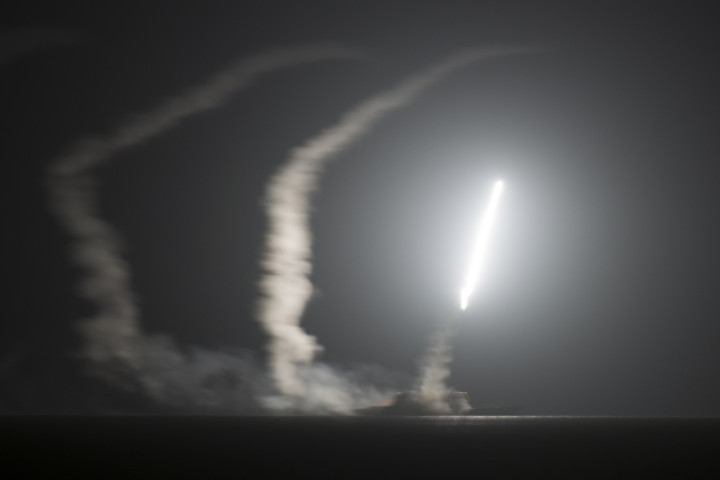 A Downing Street spokesperson said: "The PM supports the latest air strikes against Isis terrorists which have been carried out by the US and five other countries from the Gulf and Middle East.
"He will be holding talks at the United Nations in New York over the next two days on what more the UK and others can do to contribute to international efforts to tackle the threat we all face from Isis.
"The UK is already offering significant military support, including supplying arms to the Kurds as well as surveillance operations by a squadron of Tornadoes and other RAF aircraft."
The Ministry of Defence said discussions are still "ongoing" as to whether Britain will join France, the US and the five Arab "partner nations" in joining in the air strikes.
Shadow Foreign Secretary Douglas Alexander said Labour also backs the air strikes in Syria as IS represents a threat "not just to regional security in the Middle East but to international security".
Elsewhere, Russia has condemned the air strikes in Syria as a violation of the country's sovereignty.
A spokesperson for Russia's foreign ministry told RIA Novsti: "Attempts to pursue own geopolitical goals through violating the sovereignty of other states only escalates tensions and aggravates the situation even further.
"Moscow has repeatedly warned that those who initiated one-sided military scenarios bear full international legal responsibility for the consequences."