This time last week we were all on the edge of our seats as we witnessed the climax of what turned out to be the most dynamic, gripping election yet. I have never seen so many people engaged with a campaign trail and I think I speak for everyone when I say the final result was totally unexpected.
No matter who you voted for, there's no denying winning a majority government is an amazing achievement for the Conservative party.
In my last blog I talked about uncertainty and I have been surprised by the role this had to play throughout the election frenzy. Businesses are telling me that an immediate effect they're experiencing is a united feeling of relief; the relief of finally knowing the result and the relief of knowing we will not entering a hung parliament. Now we are able to diminish feelings of uncertainty, I have high hopes that Britain's business community will continue to grow stronger and prosper within the next five years.
Throughout the election, the Tories definitely positioned themselves as the party for business, which I think is one of the main influences behind their current success. David Cameron's small business rhetoric really won the heart of the business community and his constant referral to small businesses as "the lifeblood of the economy" managed to increase the confidence of entrepreneurs around the country.
Businesses want direction and stability and although a majority government for five years will bring this, there is also of course the impending referendum on our status in the European Union to consider. For businesses, this could bring a new wave of ambiguity and an element of uncertainty into our long term planning and budgets. It would be a shame if this process detracted from the wave of optimism that I'm seeing on the ground in businesses looking to grow, export and hire.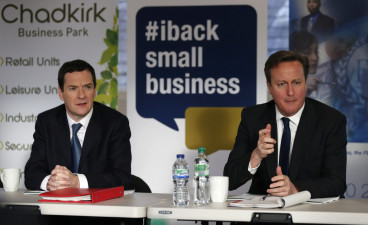 Small businesses will now be looking for Cameron to fulfil his promises by cutting red tape, addressing late payments, providing start-up capital to new businesses through Start-up loans and supporting growth for existing businesses through new schemes such as 'Help to Grow'.
By understanding the significance and relevance of the SME community, the Conservatives got the best result they could've asked for. On the contrary, one of Labour's biggest errors throughout their campaign was alienating entrepreneurs and making them feel like a Labour government would damage future growth and success. Businesses want to feel encouraged to prosper by knowing they have the Country's leaders on their side – Miliband failed to do this by focusing too much on compassion and not enough on aspiration and ambition. This made a huge impact on the business minded voters' final decision, something both Lord Sugar and former Labour Prime Minister Tony Blair have agreed on when commenting on the party's inability to attract the business vote.
Britain is leading the growth across Europe and we are certainly well positioned to continue the momentum already created. In their small business manifesto, the Tories vowed to create 600,000 businesses a year by 2020. Is this a realistic target? Absolutely! They have already committed to triple the number of Start-Up Loans, giving 75,000 more would-be entrepreneurs the opportunity to crystallise their dreams and start a business they passionately believe in.
Not only this, last year 580,000 businesses registered with Companies House and I am positive that with added confidence, the UK entrepreneurial community will be in a position to achieve even greater things year on year.
More importantly for me is the opportunity this creates for UK employment. Think about how many jobs 600,000 new businesses could create – I'm thinking over a million! Finally, our government is beginning to understand how vital small businesses are for creating a healthy economy, creating jobs and building a brighter future for us all. This is epitomised by the recent announcement of Anna Soubry as "Small Business Minister" – previously entitled "Minister for Business and Enterprise" and held by Matthew Hancock, Soubry's role is now dedicated to the support of small business. This will have a very positive subconscious effect on the community as we are further reassured that our concerns will be heard at the highest level.
This week I was delighted to hear that Sajid Javid has been appointed Business Secretary. This is an incredible achievement for somebody from very humble beginnings – the son of a Pakistani--born bus driver – who saw his career catapult from former banker turned first British Pakistani MP, Culture Secretary, Privy Councillor and now Business Secretary for The Department for Business, Innovation and Skills.
Sajid has a lot of hard work on his hands and a great legacy from Vince Cable to continue, but I believe appointing him was an excellent decision. He understands business and the challenges businesses face but what really stands out to me is that he recognises that business is all about dedication, hard work and a long-term vision to achieve success. Three concepts he absolutely exemplifies.
I'm extremely optimistic that UK businesses will continue to thrive, entrepreneurs will be held as heroes in our communities and the UK economy will benefit immensely from further business dedication and investment. This is the age of the entrepreneur, we've been given an opportunity to succeed – grab it with both hands and make it happen.
James Caan CBE is founder and CEO of Hamilton Bradshaw, a venture capital firm based in Mayfair, and a former panellist on BBC series Dragons' Den. He supports many charities and established the James Caan Foundation to support education and entrepreneurship in the UK.
You can follow James on Twitter @jamescaan.