The UK's Brexit Secretary David Davis and chief EU negotiator Michel Barnier have failed to come to a compromise over the residency rights of EU nationals in the UK and Britons on the continent, it emerged on 20 July.
Barnier, who addressed a press conference in Brussels, Belgium, alongside Davis, insisted that there was "no alternative" to the European Court of Justice (ECJ) overseeing the rights of EU nationals in the UK after Brexit.
"This is not a political point we're making, it's a legal one," he said. "Simply, if there is to be continuity of EU law that has to be framed by case law of the court only the court can interpret EU law. It's not a choice, it's an obligation."
But the UK government has maintained that it wants to break from the ECJ after it splits from Brussels around 2019, with Davis admitting that the parties have "different views".
"We have looked at each other's proposals in depth and identified many concrete areas where we agree as well as areas where there will be further discussion, which will be a priority for the next round as Michel has said," he said.
"We have also agreed to publishing a joint paper today that sets out the many areas of convergence in our proposals, and the areas we need to prioritise for future discussion in our future rounds.
"Michel listed a number of the areas which require that future discussion and I won't reiterate them, I'll add to them: issues like voters' rights, posted workers and of course, as he said, the need for shared certainty.
"We agreed on the need for certainty on the part of citizens both in the EU and the UK, we obviously have different views on how we achieve that."
The UK and EU have also disagreed on Britain's financial settlement or divorce bill of up to €100bn (£88.8bn). "Ultimately getting to a solution will require flexibility from both sides," Davis said. "But as Michel said, we shouldn't expect incremental progress in every round."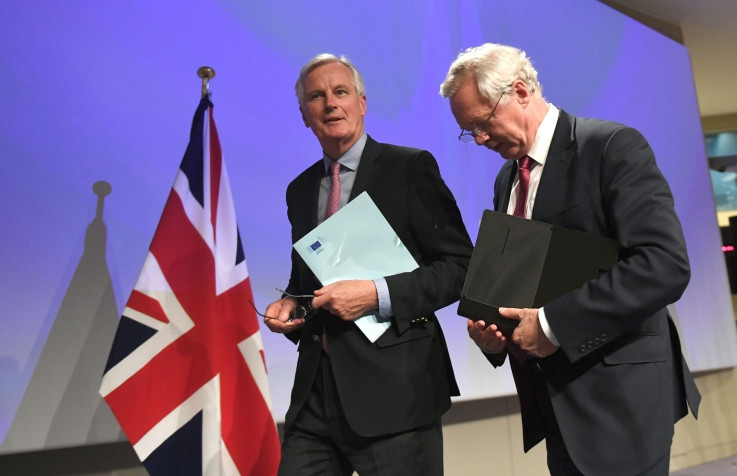 Michel Barnier and David Davis in Brussels
Getty
However, Labour's Shadow Brexit Secretary Sir Keir Starmer said he was "deeply concerned" by the lack of progress made in the negotiations.
"Labour has been calling for action since July last year. Twelve months later, after having been promised a swift resolution of the issue, we learn today that there remain 'fundamental divergences' on this key issue."
"This means more waiting and more anxiety for millions of families," he said. "The lack of progress on this and other issues also calls into question whether phase two of the negotiations can commence in October.
"That will trigger deep concern for businesses and communities across the UK, who need much greater certainty and reassurance than they are getting from this government.
"The reality is that we have a government that is unprepared, divided and incapable of securing a good deal for Britain. We urgently need a fresh approach."