The EU is apparently going to soften its stance around post-Brexit free trade talks with the UK as David Davis heads to Brussels on Monday 17 July.
Michel Barnier, the EU's chief negotiator, is expected to raise the issue of import quotas to the bloc on the sidelines of his talks with the Brexit Secretary.
Barnier's team are reportedly exploring options on how to change the amount of imports it allows into the EU after the UK splits around 2019, Politico said.
"It's a question of whether the Brits want to cooperate or if they want to go their own way," a diplomatic source told the publication.
The development comes after Barnier and Davis agreed on a timetable to the negotiations, which prioritised the residency rights of the more than three million EU nationals in the UK and the more than one million Britons on the continent.
Talks around a post-Brexit free trade agreement between the EU and UK were temporarily off the table, but the tariff issue may open up an avenue for Davis.
Barnier is also expected to press Davis and the UK negotiating team over the so called "Brexit bill", which could cost Theresa May's government up to £87bn (€100bn).
Conservative MEP David Campbell Bannerman, a Leave campaigner, told IBTimes UK that such a settlement would be "pure fantasy".
"The UK is committed to paying its daily contributions until we leave in two years," he said. "After we leave, we should be paying to access programmes such as Horizon 2020 research or agencies such as the European Space Agency. Unexplained payout demands such as £87bn are pure fantasy."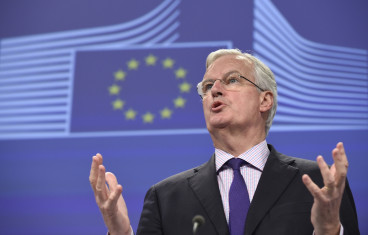 Property developer Richard Tice, the co-chairman of the Leave Means Leave campaign, said he would not give an amount on a settlement he would consider acceptable.
"Zero is best of course," he told IBTimes UK. "But I would pay more for quick settlement pre-end-of-year given the turmoil in Westminster."
Philip Hammond, meanwhile, is facing a cabinet briefing war in Westminster.
The pro-EU Chancellor is deliberately working to "frustrate" Brexit and treating his Eurosceptic colleagues like "pirates who have taken him prisoner", a senior minister had told The Daily Telegraph.
The attack comes just a day after The Sunday Times claimed that Hammond told a cabinet meeting that public sector workers were "overpaid".
The Chancellor refused to deny the report on BBC One's Andrew Marr show. "I do think on many fronts it would be helpful if my colleagues - all of us - focused on the job at hand," he said.
Hammond has reportedly been pushing for a two-year-long post-Brexit transition deal with the EU, in a bid to avoid a "cliff edge" for British business. But Davis, in contrast, has said that the UK will split from the EU's customs union and single-market by the end of 2019.