It seems as if David Duchovny really doesn't want to be known as a one-trick pony. The X Files star must love being busy as not only is he reviving the 1990s sci-fi show with co-star Gillian Anderson, he's got a lead role in upcoming drama Aquarius and he just released his first novel Holy Cow. But now he's breaking in to the music industry.
Never having been involved in music before, his first solo album entitled Hell Or Highwater will be released through Thinksay Records and will feature 12 songs all written by Duchovny himself. The album is said to have a alt-rock feel to it.
The title track can be downloaded on iTunes now and the rest of the album will be available on the music site on 12 May.
The Californication actor revealed that he "fell backwards" into music, when he bought his first guitar just a few years ago. To accompany his music, he started creating poetry and then later on made his way into composing lyrics.
Even the 54-year-old himself seems amazed by how many strings he has to his bow. "Making this record is a dream come true, but I never had this dream – it's still a shock when I think about how all this music happened."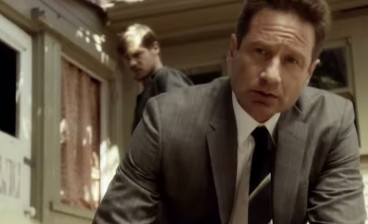 With as many ventures as he has going on at the moment, it's not all that surprising that the Golden Globe winner's desire to make music has stemmed from personal goals rather than the potential for financial gain.
He tells Rolling Stone: "It's just been a real pleasure in my life, regardless of who buys it and what people think of it when it comes out. It's been a lifesaver just to be able to play music, write songs and think about singing songs to friends."
In the same month of his LP release, Aquarius airs 28 May on NBC in the US. Set in the 1960s, Duchovny plays LA Police Sergeant Sam Hodiak who attempts to solve a missing person's case with unreliable hippie officer Brian Shafe (Gray Damon).
Meanwhile, the six-episode comeback of The X Files will begin shooting in June.