Former Ku Klux Klan (KKK) leader David Duke has set his sights on being secretary of state if Donald Trump is elected US president.
Trump supporter Duke, whom the GOP hopeful has failed to distance himself from despite Duke's history as a white supremacist and KKK grand wizard, said a role as secretary of state would help him "reach out" to other countries.
His comments came in an interview with The Independent, in which he claimed: "I'd like to be secretary of state, travelling around the world and reaching out to all the other countries."
The Southern Poverty Law Centre website states that he Drake travels the world warning people of "a Jewish conspiracy".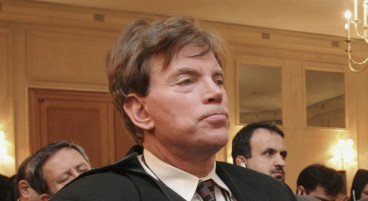 On his radio show, Duke admitted that he had no formal links with the Republican frontrunner but that he hoped Trump would win the nomination.
"I'm not saying I endorse everything about Trump, in fact I haven't formally endorsed him," Duke said. "But I do support his candidacy, and I support voting for him as a strategic action. I hope he does everything we hope he will do."
Following pro-Trump comments made by the 65-year-old white supremacist from Louisiana, Trump initially disavowed Duke, but days later denied any knowledge of him, CNN reported.
"Well, just so you understand, I don't know anything about David Duke, okay? I don't know anything about what you're even talking about with white supremacy or white supremacists. So, I don't know," Trump told CNN reporter Jake Tapper.
"I don't know, did he endorse me or what's going on, because, you know, I know nothing about David Duke. I know nothing about white supremacists. And so you're asking me a question that I'm supposed to be talking about people that I know nothing about...
"I don't know any — honestly, I don't know David Duke. I don't believe I have ever met him. I'm pretty sure I didn't meet him. And I just don't know anything about him."
Trump is not the only candidate to have been associated with notorious figures; recently Ted Cruz was slammed by critics for failing to apologise for sharing a platform with "kill the gays" hate preacher Kevin Swanson, admitting months afterwards that it had been "a mistake" to share a platform with him.
Trump had not responded to IBTimes UK request for comment at the time of going to press.