David Haye returns to the ring for the first time for three-and-a-half years to face Australian Mark de Mori at the O2 Arena on Saturday 16 February.
Where to watch
Haye vs De Mori is available to watch live on Dave, with the programme scheduled to begin at 9pm GMT. Ring walks for the main event are expected to commence at approximately 9.45pm.
Overview
With the heavyweight division having been blown apart by the Wladimir Klitschko's defeat to Tyson Fury, David Haye could not have chosen a better time to stage a return to boxing after three-and-a-half years in the wilderness. The 35-year-old has filled the airwaves with suggestions he can reach the summit of the division, but must put himself back on the map against Mark de Mori.
There is little doubt that despite Haye's grand designs, the build-up to his return to the ring has fallen flat. The calibre of his Australian opponent, the failure to acquire an established broadcast partner with the fight being shown on Dave, inability to sell-out the 19,000 capacity O2 Arena and a partnership with little-known marketing company Salter Brothers Entertainment means there is a hugely sterile feeling surrounding the comeback of a man who used to be one of Britain's best-loved fighters.
De Mori has an impressive record on paper, with one defeat in 33 bouts, but with no high profile casualty on his hit list it is hard to judge what sort of problems he could cause Haye. Billed as a top-10 ranked fighter, the 33-year-old is on the peripheral in the WBA rankings. Victory over a former heavyweight champion would be a huge addition to his CV, but the likelihood is that the meeting may represent the summit of his career.
To avoid the injuries that have plagued and undermined his career, Haye has piled on the weight, which – while it will limit his speed – should make him more durable and built for a real crack at dominating the division one last time. However, going forward there remain questions over how he will cope without his defining agility and whether his shoulder injury, which has already ended his career once, will hold up under the strain.
Those concerns are unlikely to be answered in Greenwich however. In a fight difficult to be taken seriously, anything less than a convincing win could be a genuine setback for Haye in attempts to seduce Anthony Joshua or even champion Fury for a clash in 2016.
What they've said (via BBC Sport)
David Haye: "Boxing is littered with hard-luck stories. I've looked at plenty of boxers in the past and thought: 'Why is this guy coming back? From the age of 10 I said I was going to retire when I was 30 and before my 31st birthday I had the big unification fight with Wladimir Klitschko [in 2011].
"If I'd won that, it would have been a full house – unified cruiserweight and heavyweight world champion – and I probably would have retired. But things didn't turn out that way and there was a little nagging doubt at the back of my mind.
"I want an opportunity to do what I didn't quite get the chance to do last time, which is to unify all the heavyweight belts. It's been very frustrating sitting on the sidelines. I always had that burning desire to regain the heavyweight championship of the world. I've got a lot more to give."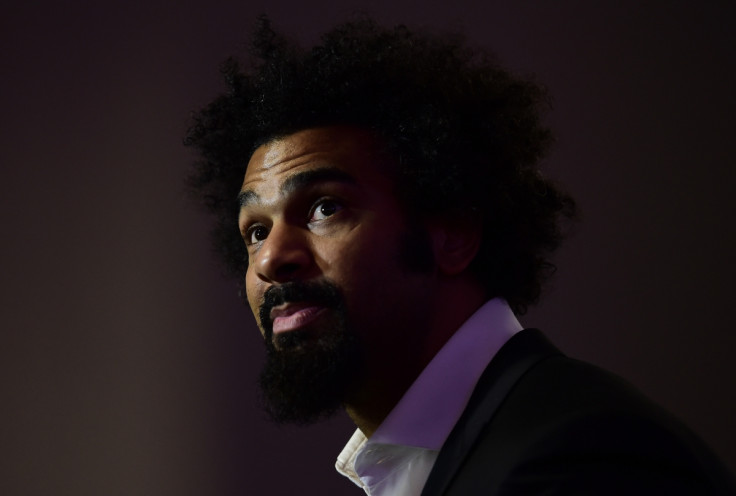 Mark de Mori: "Some guy like David Haye might judge me on my boxing record, but some of the things I've done outside of boxing which I'll never mention are 100 times scarier than facing David Haye. I also used to get the s**t kicked out of me as an amateur by the older guys every day and I kept going back, so getting hit doesn't worry you when you've been a boxer for a long time.
"I'm fully aware of what I'm up against. A lot fights I've just sort of been going through the motions, but this fight I've got to be a lot more aware of each second of each round.
"He's the kind of guy when the buzzer goes for the last 10 seconds of the round he'll catch you, or he'll lull you dancing away, then all of a sudden spring in looking for the knockout. So I've just got to be focused because in a lot of fights, if I don't think they can hurt me I don't really work on my defence as much as I can, I just tend to walk forward and take what they can give because I'm bored.
Records
Haye: 28 fights, 26 wins (24 via knockout)
(W) Dereck Chisora – technical knockout – July 2012
(L) Wladimir Klitschko – unanimous decision – July 2011
(W) Audley Harrison – technical knockout – June 2014
De Mori: 33 fights, 30 wins (26 via knockout)
(W) Marcel Zeller – technical knockout – October 2015
(W) Radenko Kovac – knockout – May 2015
(W) Zeljko Bojic – tecnhical knockout – December 2014
Prediction
Forty-two months away from the sport via surgery and reality television will surely have taken its toll on Haye, who has given himself a genuine warm-up fight before taking on greater challengers. De Mori is riding on the coattails of the Briton and will look to survive in the early stages before praying on Haye's lack of sharpness. The reality though is he is unlikely to last long enough to implement such a grand plan.
Odds (via William Hill)
David Haye 1/25
Mark de Mori 9/1
Draw 33/1
Undercard
Shayne Singleton vs John O'Donnell

Tony Dodson vs Richard Horton
Kay Prospere vs Lee Connelly
Wadi Camacho vs Jindrich Velecky
Josh Kennedy vs Luke Fash
Jose Lopez vs Darren Snow