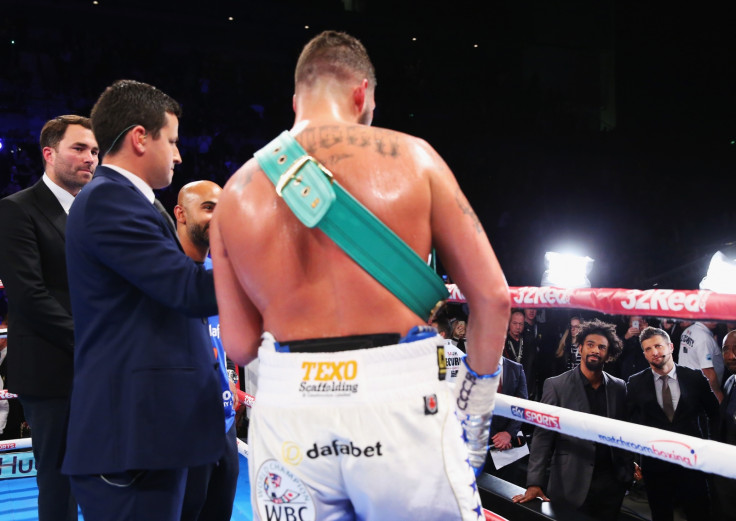 David Haye is willing to fight "loudmouth" Tony Bellew in the ring - but only if the Liverpudlian steps up to heavyweight. The 33-year-old Bellew threw down the gauntlet to the former WBA heavyweight champion following the former's victory over BJ Flores to retain his WBC cruiserweight title in the Echo Arena on Saturday night (15 October).
The duo engaged in a war of words in the immediate aftermath of Bellew's one-sided knockout win, with the local hero mocking Haye's "pathetic" return to boxing after a two-year hiatus. Haye has beaten relative unknowns Mark de Mori and Arnold Gjergjaj since his comeback - and Bellew has accused his rival of short-changing boxing fans.
Haye said he would be glad to face Bellew, but is not willing to step down a weight to make the bout happen. "I've heard all the Bellew talk," the 36-year-old star said, according to Mirror Sport. "He's been very, very vocal about going up to heavyweight and doing a number on me and knocking me out.
"He makes a lot of noise, he's a very popular lad. He was in the latest Rocky movie, Creed. He's flying high. He won the WBC title at Goodison Park and fulfilled his dream of winning a world title."
Haye suggested Bellew has become carried away by his recent success, which includes winning the WBC crown against against Ilunga Makabu in May. But the former heavyweight champion said his outspoken adversary will need to step up a division in order to seal the money-spinning fight.
"He believes he's invincible, but I definitely think it's a step too far to go up to heavyweight and fight me," Haye reflected. "I was the No.1 at cruiserweight when I unified the division, which is something no British fighter has ever done. And then I went up to heavyweight and won the WBA title. I'm not going to go back down to a less-glamorous division than the one I'm in now for a loud-mouthed guy like him."