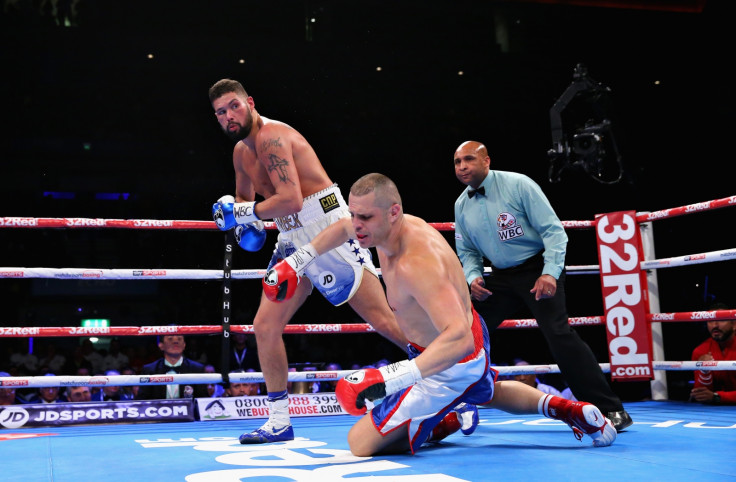 Tony Bellew sensationally called out former world heavyweight champion David Haye minutes after defending his WBC cruiserweight title against BJ Flores.
Bellew, making the first defence of his title, made quick work of 37-year-old Flores, dropping him three times inside of the opening two rounds.
A vicious left hook from the Liverpudlian dropped him again in the fourth. That time he was unable to beat the referee's count.
No sooner had the referee declared him the winner, Bellew turned to Haye who was sat ringside, mocking the 36-year-old's "pathetic" return to boxing after a two-year hiatus which has so far seen him beat relative unknowns Mark de Mori and Arnold Gjergjaj.
Being interviewed by Sky Sports post-fight, Bellew pointed at Haye and said: "You see him? He's been conning the British public since this pathetic comeback of his (started). Listen to me right now, let's be totally honest, those two guys you just fought, they are in town right now, they are either working on nightclub doors or putting the bins away. Those two guys you fought are a joke and you are robbing everybody who comes into the arena.
"You predicted BJ was gonna beat me, didn't you? He got smashed. And you see you? You're gonna get smashed too. I don't care how dangerous you think you are, we remember what happened when I was at amateur, when you were fighting for the British title. Me and Pricey [British heavyweight David Price] spanked you in the gym. And you know what? With 10oz gloves on boy, I'll put you and that pathetic haircut of yours asleep."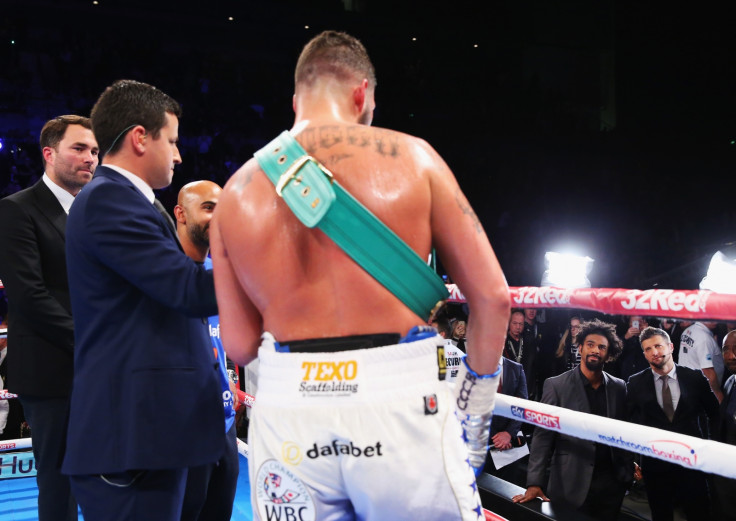 Bellew then went on to describe Haye as "Spongebob Squarepants" and invited him to drop down to 200lbs and challenge him for his cruiserweight title.
"I don't fear you, you have got this big aura, and I don't care. I smashed your buddy, your playmate, your nightclub buddy and I will smash you the exact same way.
"His [Haye's] dimensions are the same as mine. He's six foot like me, I'm a little fatter and he's better looking, but we're the same. He's gone to heavyweight because he loves money, but I'm the biggest payday you will get."