Around one hundred people gathered on Parliament Square as part of what organisers had billed as the 'Day of Rage' demonstration on Wednesday (21 June).
But despite the protest's name, scheduled to coincide with the Queen's Speech, the demonstration had a relaxed atmosphere, with most activists enjoying the UK's summer heatwave.
A few young men gathered in the corner closest to the Houses of Parliament to shout their grievances and chants – 'oh, Jeremy Corbyn' and 'Theresa May suck your mum – but a police source described the event as 'peaceful' to IBTimes UK.
Elsewhere, the professional protesters of the Socialist Party, Socialist Workers Party and others used the opportunity to set up stalls and hand out pro-Corbyn, anti-capitalist literature and posters.
One man even handed this publication a Marxism 2017 festival leaflet, which promised "four days of meetings and debates".
However, others had more serious concerns about how the government and Prime Minister Theresa May has handled the Grenfell Tower tragedy.
A young man called Adam, who wouldn't give his full name but lives around 10 minutes away from Grenfell Tower, said he wanted "justice" from the government. '[They should] find the murderers...They tried to make [the building nice]. If it was rich people living there, they would get sprinklers, cameras – everything.'
Meher, 16, who lives in Westminster, said: "The main message here today to Theresa May is that we need her out. This country is in a crisis, there's too much going on for us to ignore – the London Bridge attack, the Finsbury Park mosque attack. They are not paying as much attention as somebody like Jeremy Corbyn.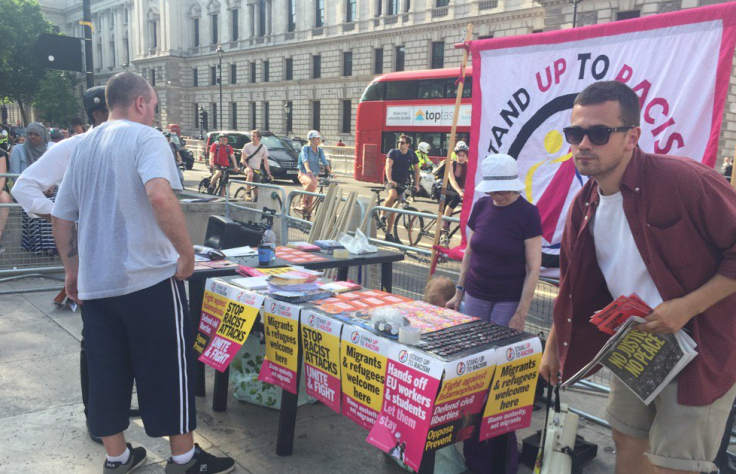 "I feel May's reaction to Grenfell wasn't much like a prime minister would do. Somebody like Corbyn actually physically went up to the victims and spoke to them, whereas Theresa May just went over to the emergency services. She's not much of a leader."