'I am so sorry': Christian pensioner thanks Finsbury Park imam in tearful video
"You don't have to apologise because he doesn't represent you and he doesn't Britain," Imam Mohammed Mahmoud said.
A Christian pensioner from East London underwent pilgrimage to the Finsbury Park Mosque to give alms for the victims who were affected by a far-right terrorist attack on Monday morning (19 June).
Emotional Julie Simpson spoke with Mohammed Mahmoud – the local imam praised as a hero after he protected assailant Darren Osborne, 47, in the aftermath of the attack.
Simpson wept as she told Mahmoud that Osborne's van attack on worshippers leaving prayers just after midnight, leaving one person dead and 10 injured, was un-Christian and un-British.
In turn, the preacher told her there was nothing to apologise for, explaining that Osborne did not represent Britain just as Isis do not represent Muslims.
He thanked her for the donation and the two discussed the welfare of the injured victims and their shared conviction that more unites the people of London than divides them.
Mahmoud explained to Simpson, who uses a mobility scooter, that two of the victims are still in a "very serious condition".
The video was uploaded to Facebook at 6.56pm on 19 June by Eisa Ali and has been viewed by just under 500,000 people.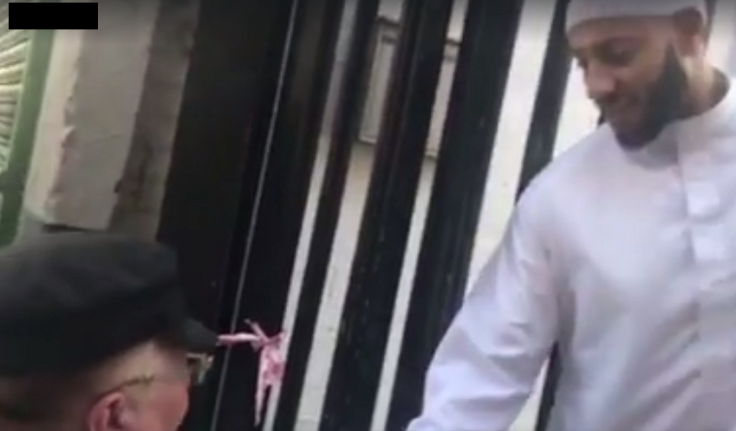 The footage opens with Simpson speaking to the camera as she waits for Mahmoud. She said: "I've come here because people who have come here are not English.
"They aren't Christian, in fact, God forgive me, they are animals... They're not Christians. They are nothing.
"Muslim, English, in the Quran and the Bible, it says love your brother like you would love yourself. Would you do that to your brother?" she added.
The imam then arrived to receive the envelope containing money for the family of the dead man's family. Simpson said: "My friend, I am so so sorry. I'm sorry for this, I am. This is for the family. Please say to the family, I am so sorry."
"It rips my heart out, it literally rips my heart out. "I've come all the way from Ilford just to see you and say that I'm sorry," she added.
Mahmoud replied: "You don't have to apologise because he doesn't represent you. This criminal doesn't represent you and he doesn't Britain."
"They're a fringe group of criminals and extremists, likewise ISIS is a fringe group and they don't represent Muslims, and these people don't represent the great people of Britain, and we're part of Britain too."
Simpson continued: "I felt I had to come. I was up last night and I turned the telly on and I couldn't do anything. I was crying. I was crying all the time. I thought to myself, what could I do?"
She then promised to light candles and say prayers for the those who are still injured.
The Imam expressed his gratitude: "You embarked on such a long journey for us and I can't thank you enough."
© Copyright IBTimes 2023. All rights reserved.