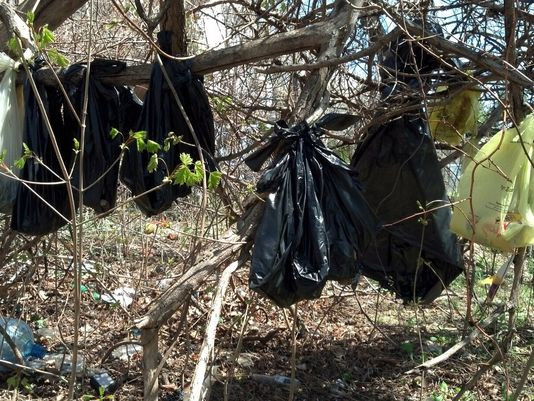 Dozens of dead cats have been found stuffed into plastic bags hanging from trees in an abandoned lot in Yonkers, in the state of New York, according to authorities.
At least 30 dead cats were found by public work employees who had been called to clear rubbish from the area. Witnesses described the grisly scene as "horrific" and smelling of death.
The cats were placed in small shopping bags and then either hung from the tree limbs - like a line of laundry - or spread around the base, in what appeared to be a ritualistic display.
"Many of these cats were already decomposed, where there was only a skull or a skeleton and then you had some fresher ones where they had only been there three days," Ernie Lungaro, director of humane law enforcement at the Society for the Prevention of Cruelty to Animals (SPCA) and a former NYPD lieutenant, told the Daily news.
Most of the felines appeared to have died before being put into the bags, according to Lungaro, as any cat would have been able to rip them to find a way out.
Authorities have requested necropsies - or animal autopsies - to be performed.
Officials are working to establish whether all the cats, who were hung in the woods over several months in the past year, were feral. But some of them were so decomposed that it will be difficult for authorities to determine the cause of death.
The abandoned lot where the cats were found is just 10 minutes from the popular Yonkers Amtrak Station in a residential area, with shops and restaurants nearby. SPCA's executive director Shannon Laukhuf told Vocativ that it is "very strange" that no one reported the grim scene considering the smell and the number of cats.
"There's a path that runs down to the businesses," Laukhuf said.
"Clearly, people have walked that path pretty often. It's hard to believe that someone didn't notice something. The smell of decomposition is overwhelming."