Only months after celebrities and animal welfare charities mobilised to defend the humble badger from a government cull, the black and white woodland creature is back in the frame, this time for assisting in the first ever cat-to-human transmission of tuberculosis.
Veterinarians believe domestic cats could be catching the disease by venturing into badger setts or from rodents that have been in contact with setts.
Two human cases have been linked to nine incidences of the Mycobacterium bovis infection in cats in Berkshire and Hampshire last year, according to Public Health England (PHE).
Both people are understood to be responding to treatment.
An Animal Health and Veterinary Laboratories Agency spokesman said: "We have not made a direct link but we think the most likely source is badgers or rodents. There's a link to badgers because they are known wildlife vectors for TB, as studies have shown."
This hypothesis has sparked anger among badger lovers, who claimed the link to badgers was "complete speculation".
Chief executive of the Badger Trust, Dominic Dyer told IBTimes UK: "You are more likely to win the national lottery than catch TB from a badger. The level of disease risk is very small.
"This cull policy is collapsing politically and the government is engaging in complete speculation by saying there's a link with badgers in these cases. The chances are the transmission in these cases was cat to cat.
"Will the government now cull all feral cats in the country?"
The Animal health and Veterinary Laboratories Agency posited a badger connection after examining cases of domestic cats with TB-like symptoms in Berkshire last year.
It comes only months after the government was forced to ditch plans to fight the disease by shooting the animals in a cull.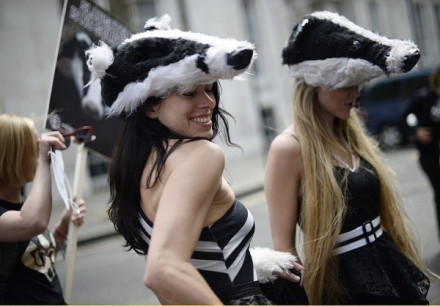 Opposition to the shooting cull saw protesters dress up in costumes and a "badger army" marched on parliament ahead of a vote by MPs.
On the other hand, the National Farmers Union is in favour of culling badgers because of the risk of spreading TB to cattle.
An NFU spokesman told IBTimes UK: "We express our sympathies to those people who have contracted TB through their cats. We understand that the source of infection was wildlife – either badgers or rats,"
"Badgers are known to spread TB amongst cattle and this latest news that they may have infected cats which have gone on to infect humans underlines the pressing need to control the spread of TB in wildlife."
The annual number of cases of feline TB in the UK rarely hits 25. The sudden outbreak in Berkshire was unusual and drew attention. According to the Times, a total of 39 people were exposed to infected felines.