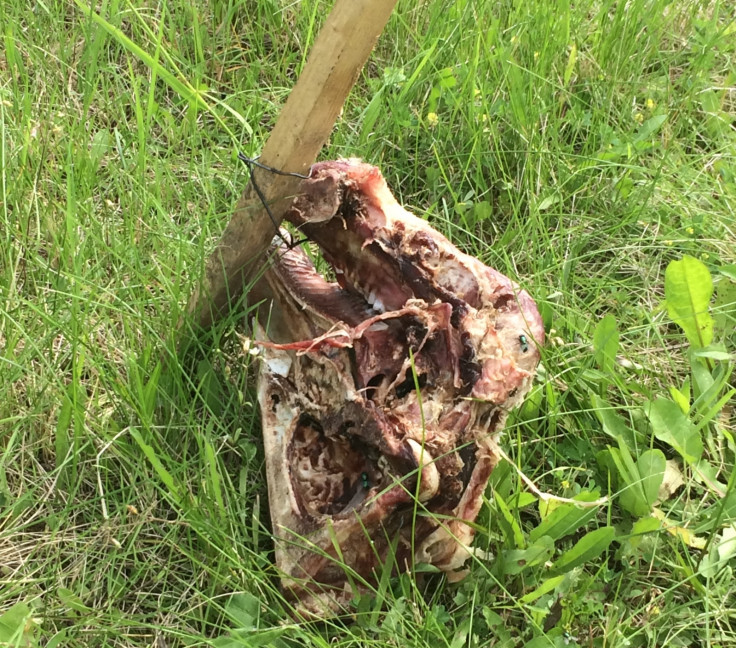 Police are investigating after body parts belonging to dead pigs were impaled on wooden stakes at the proposed site of a mosque in Germany.
A pig's head, feet and entrails were among the body parts found on nine 1.5 metre-high wooden stakes at the site of the planned Ahmadiyya mosque in the city of Erfurt, Thuringia.
With the consumption of pork considered unholy by many Muslims, the suspects are thought to be anti-Islam activists who have long opposed the building of the mosque.
Mohammad Suleman Malik, a spokesman from the local Ahmadiyya Islamic community, told of his "shock" at discovering the rotting pig carcasses during a routine visit to the site on Monday (29 May).
The 31-year-old, who also works as a social worker helping refugees, said he arrived in Erfurt in 2000 as a teenager after his family were forced to flee persecution in Pakistan, where the Ahmadiyya sect has historically been oppressed.
"We have never experienced this kind of provocation in Germany before," he told IBTimes UK. "Our community is used to being persecuted in countries like Pakistan but this is the first time I've experienced something like this here.
"It should not be the case that minorities are attacked in this way in a civilised society."
Malik said his community of about 30 Ahmadiyya worshippers in Erfurt would respond to the recent incident with a message of "love and harmony," adding: "We are open to speaking with anyone who opposes us."
Hate crimes, classified in Germany as politically motivated crimes, reached a record high last year in the country, according to the interior ministry.
More than 1,500 hate crimes based on religion were committed in 2016 – a 36% rise from 2015. More than two thirds were classed as having right-wing motivations.
It coincides with Germany taking in record numbers of refugees from war-torn countries like Syria over the past two years, many of whom are Muslim.
Malik said pre-application proposals to build a "small" mosque for his community on undeveloped land in the east of Erfurt were approved last year and had received backing from local and central government authorities.
But strong opposition has come from anti-Islam groups like the German right-wing AfD party, with the its state leader Björn Höcke describing the mosque plans as "part of a long-term landgrab project".
Disturbed at the prospect of Islamic minarets adding to the Erfurt's skyline of historic church steeples, AfD activists have organised protests outside the proposed site and tried – but failed – to petition the government to ban its construction.
The AfD strongly denied being responsible for the pigs incident, with party spokesman Corina Herold condemning it as "tasteless".
Another provocative incident in March saw activists from a separate anti-Islam group place 10 metre-high wooden crosses at a site neighbouring the mosque's construction area.
Last year, another Ahmadiyya community in Leipzig was also targeted for its plans to build a mosque, with a dead piglet left near the proposed site alongside the words "Mommy Merkel" in red paint.
Malik blamed the opposition on ignorance, saying those protesting against the mosque "have a one-sided view of Muslims".
"We want to build bridges [between Muslims and non-Muslims] ... this mosque will help in that," he said.
The Ahmadiyya community in Thuringia – of which there are roughly 70 worshippers – are currently in a state of limbo, with no permanent place to pray.
Malik said landlords in Erfurt have been reluctant to rent a makeshift prayer room to the group, fearing reprisals from extreme right-wing groups.
The Ahmadiyya movement emerged in British-controlled northern India in the late 19th Century, identifying itself as a Muslim sect that follows the teachings of the Quran.
However, its community has faced persecution from Muslims of other Islamic sects who believe it to be heretical because it does not believe that Mohammed was the final prophet sent to guide mankind.