Deadly Aesculapian Snakes On the Loose in London
Over 30 'deadly' snakes capable of killing small animals spotted near Regent's canal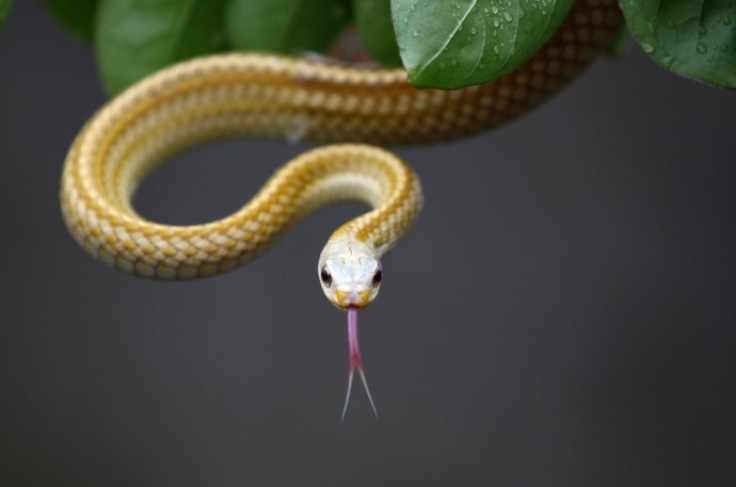 More than 30 deadly Aesculapian snakes measuring up to 6ft 6in in length are on the loose in central London.
The rare snakes, which are classed as "of high concern" by the London Invasive Species Initiative (Lisi), were reportedly seen hiding on buildings and in trees near Regent's canal, and feasting on large rats and birds.
Aesculapian snakes are the third largest in Europe and although they are not poisonous, they are capable of killing small animals. Experts believe that one of the adult snakes could have the strength to kill a small dog, prompting fears among local residents that small children could be at risk.
The serpents are believed to be descended from ancestors that escaped from London Zoo or a nearby Inner London Education Authority building decades ago.
Lisi, a government advisory quango, has called for the snakes to be eradicated, as they could have a "serious negative impact" on the local ecosystem.
Lisi manager Karen Harper told the Camden New Journal: "[The] Aesculapian snakes species is listed in the Wildlife and Countryside Act 1981, meaning it is illegal to allow the species to spread or escape into the wild. At present there is limited information on what affects the species may have on our local ecosystems."
Dr Wolfgang Wuster, a snake venom expert and senior lecturer of the School of Biological Science in Bangor University, maintained that the threat posed by the snakes is not as serious as some ecological experts suggest.
"Any attempt to eradicate the Aesculapian snake would require justification of resources to be devoted to an almost certainly non-problematic introduced species with little prospects of spread, as opposed to the many far more damaging species already out there," he told the Camden New Journal.
"Given the near certainty of massive global climate change over the next century, the idea that we can treat the UK fauna and flora like some kind of pre-industrial vicarage garden and preserve it forever without any changes is simply farcical," Wuster added.
Aesculapian snakes are long and shiny and can easily be confused with juvenile grass snakes due to their similar colouring. Their main food source are rodents, which they kill by constriction.
Last year, Noah Barthe, four, and his brother Connor Barthe, six, were strangled by a pet African rock python weighing 45kg in their friend's home in New Brunswick, Canada. The snake was kept in a large glass enclosure that reached the ceiling of the apartment, and escaped through a small hole in the ceiling connected to the ventilation system.
© Copyright IBTimes 2023. All rights reserved.