A python in Australia bit off more than it could chew when it swallowed a family's pet dog whole – including the chain it was tied to the kennel with.
The dog, a Chihuahua-Maltese cross, had been in the back garden of the family home in Caniaba, New South Wales, inside its kennel when the python struck, the Sydney Morning Herald reports.
It's owner, who has now been named, came into the garden to let the dog off its chain when she made the discovery – a 2.5m python with a bulging belly and a chain sticking out of its mouth.
She called the Wildlife Information Rescue and Education Service (Wires) for help and they arrived to find the snake lying in the kennel looking forlorn.
They estimated the python to be around 50-years-old. The volunteers left the animal for 24 hour to see if it would regurgitate the chain and dog, but it did not, so was taken to the Currumbin Wildlife Sanctuary.
Wires Northern Rivers secretary Sue Ulyatt said the dog's owner was very upset but realised she had made a "dreadful mistake" leaving the dog outside, without realising the possibility of a snake eating it.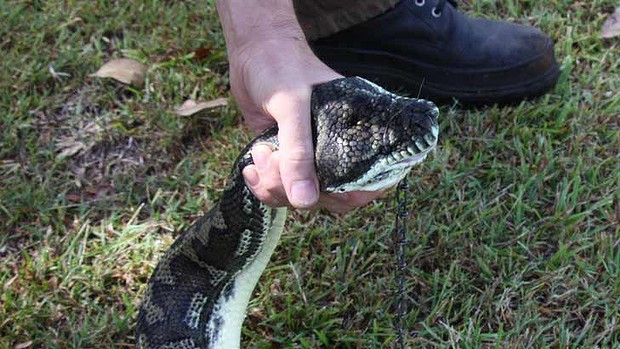 "The lady went out to let dog off the chain, but instead of the dog being on the chain, it was large carpet python. It's only the second incident like this we've had in over 10 years. Usually it's the other way around, the snake comes off second best."
She added that the house was located in a rural area where pythons were common. She also said the python would have strangled the dog before swallowing it.
"Chaining up a dog in a wildlife area is certainly a responsible thing to do, but the dog was too small. It should have been inside."
The snake is still being held at the sanctuary and will be operated on if required.
Michael Pine, a vet at the sanctuary, said carpet pythons get an undeserved bad reputation and are often attacked by people who see them: "Sadly every week we see snakes come in as a result of trauma when people have deliberately tried to attack them.
"It's tragic the number of injuries we see from people attacking snakes. Carpet pythons are the good guys. They eat all the rodents that people don't want in their houses - the carpet pythons eat all the food so the other more poisonous snakes aren't going to hang around if there's a carpet python about."