Joel Thomas Zimmerman, better known by his stage name deadmau5, has become the latest target of the online hacktivist collective Anonymous, which has taken over the music producer's Twitter and Facebook accounts, his website and possibly even his phone.
It remains unclear why Anonymous has targeted the Canadian performer, but the group has posted several messages on deadmau5's Twitter account including pointing out that the only person he follows on Twitter now is the well-known @YourAnonNews account.
Deadmau5 has a large following on social media, with 2.7 million Twitter followers and almost 9 million Facebook fans.
IBTimes UK has attempted to contact Anonymous to clarify why the group has picked deadmau5 as their latest target but at the time of publication has not received any reply.
Password
Having taken over the performer's Twitter account at approximately 7am GMT on Tuesday 1 April, the group turned its attention to his Facebook page, which apparently uses the same password, according to a new message on the page saying:
"WAY TO USE THE SAME PASSWORD"
The group has also defaced the website with images of the iconic Guy Fawkes' mask which it uses as a symbol.
iPhone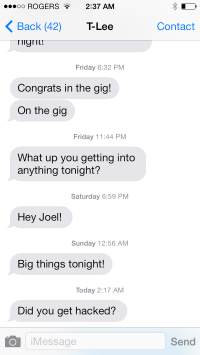 A screenshot of what looks like the iOS messaging app was also posted on Twitter, along with a message which mentions musician Tommy Lee, suggesting Anonymous was able to read texts the Motley Crue singer was sending to deadmau5, with the final message asking:
"Did you get hacked?"
The group also posted a screenshot from a chat room on deadmau5's own website which the group also appears to have compromised.
While attacking the social media accounts of high-profile people is nothing new for Anonymous, the fact the group has not said why it has picked on deadmau5, and the fact today is 1 April, could mean this is one elaborate hoax.