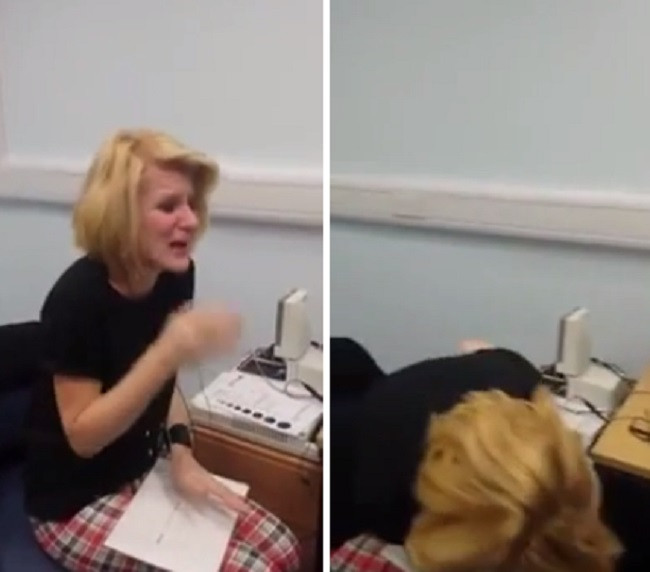 Amazing footage has emerged showing the moment when 40-year-old Joanne Milne who has been deaf since birth, hears for the first time.
Her mother recorded the heart-wrenching moment, as an audiology specialist at Birmingham's Queen Elizabeth Hospital recites the days of the week to her.
Milne, who is from Gateshead, suffers from the rare condition, Usher Syndrome, which also claimed her sight in her mid-twenties.
She said: "The switch-on was the most emotional and overwhelming experience of my life and I'm still in shock now. The first day everybody sounded robotic and I have to learn to recognise what these sounds are as I build a sound library in my brain.
"Hearing things for the first time is so, so emotional, from the ping of a light switch to running water. I can't stop crying."
She was fitted with the implants last month and faced an agonising wait before the device could be switched on and tested.
The Birmingham hospital is one of 20 centres in the UK which can carry out cochlear implants. These are surgically implanted electronic devices that enable a sense of sound to a person who is profoundly deaf or severely hard of hearing. It is not at the same level as natural hearing but they can hear environmental sounds and and speech.
Her mother Ann said: "I wanted to record the moment when her implants were switched on.
"It was just wonderful and I had tears running down my face. We all did.
"She has been deaf since birth and had never heard sounds before this.
"She knew the hospital in Birmingham was one of the best to have this operation which is why she chose to come here."
Usher syndrome is a rare genetic disorder that is associated with a mutation in any one of 10 genes resulting in a combination of hearing loss and visual impairment.