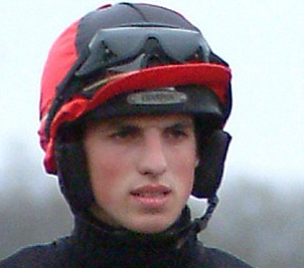 Up and coming jockey Dean Coleman has been sentenced to two years in prison for running over his girlfriend with his car.
Coleman, 24, admitted a string of charges at Cardiff Crown Court, including actual bodily harm, perversion of the course of justice and intimidation.
The court heard that Coleman reversed into Hannah Rogers, 22, then begged her not to tell police. He even threatened to sink enough drugs to trigger an overdose in an attempt to prevent her from revealing the attack.
Coleman told the court that his wild lifestyle had sent him on the wrong track, and said he would "never intentionally hurt" his girlfriend.
He added: "I got myself in with the wrong crowd and was surrounded by alcohol and drugs like cocaine and valium and I will never go down that road again.
"I have had time to look back at every mistake I have made in life and make plans for my future. I will prove to my friends and family that I have a bright future ahead of me and I will not let them down".
Beastly attack at beauty spot
The chain of events leading to the attack was set in motion when Coleman, who rode 25 winners in 248 races, shunted into the back of Rogers' car at traffic lights near Bridgend in South Wales.
He then persuaded her to get in his car, and they drove to a nearby beauty spot. When they argued again, she tried to flee the scene on foot and Coleman reversed his car into her.
The court heard that Coleman was on bail for suspected arson and intimidating a fellow jockey when the incident took place.
David Elias, defending, said: 'He once had a bright future, was hard working and earned good money and hopefully on his release can get back there.
"He was abusing alcohol and drugs at the time and was totally out of control with his lifestyle."
Coleman cancelled his jockey's licence over the court case.