Miss Iraq Sarah Idan broke the orthodox barriers of her country, first by winning the national beauty pageant and later by participating in the Miss Universe pageant, which was held on 26 November at Planet Hollywood in Las Vegas, Nevada.
However, her victory has come at a heavy price. She received death threats for posing in a bikini at the international pageant, IB Times UK has learned.
Saman Salman, the head of communication of the Miss Iraq pageant, has told IB Times UK that Idan's family was forced to leave the Iraqi capital after they were threatened by their relatives when the 27-year-old beauty queen participated in the swimsuit round of the coveted international pageant.
Idan wore a black strapless bikini top and a matching bottom for the preliminary round of the Miss Universe pageant. "Her family had to temporarily leave Baghdad due to threats from her relatives who expressed outrage after she posed in a bikini during preliminary competition," Salman said.
However, despite the serious threats, Sarah's family have been extremely supportive throughout her journey in the contest and her mother and sister continues to encourage her to win the competition.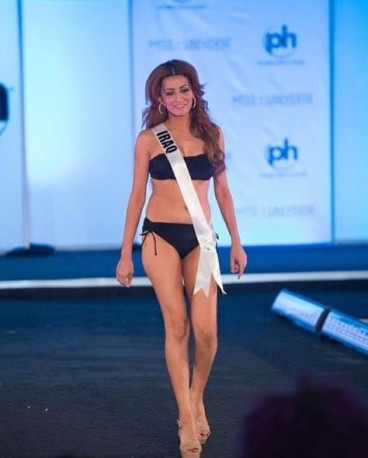 "Her mother and family are very supportive. Sarah has always been an independent young girl. Her mother is very progressive," the communication officer added. The family of current Miss Iraq, who aspires to become a singer and songwriter, comes from Iraq's most conservative region of Middle Euphrates, which includes the provinces of Babylon and Qadisiyah — where Sarah's parents and tribe came from. The region is home to two of the holiest places for the Shia Muslims — Karbala and Najaf.
In her introduction video for the Miss Universe contest, the beauty queen is heard saying that she is not afraid of anything.
Sarah, who grew up watching large scale destruction in her country, joined the US-led coalition forces in Iraq in 2009 in order to help with security stabilisation around Baghdad. She was only 19 then.
The Miss Iraq contest, which weathered multiple controversies in the Middle East nation for decades, was revived by the former governor of Mosul, Aladdin Bakri, in 1972. However, it was never held ever since until 2015 when it was revived once again following the collapse of the Saddam Hussain regime. The dictatorial Saddam regime was blamed for not allowing hosting of such events in the country.
Though she could not manage to secure a place in the top 16, she did win hearts for displaying the courage to stand against the orthodox system and participate in the international beauty pageant after 45 years.
"Yes Miss Iraq! Strong and empowered despite very difficult circumstances," one Twitter user wrote. "Miss Iraq is just brave enough to tell it in the whole universe. Amazing and touching one. Bravo!!!," added another.