Death toll for US bombing attack on MSF Kunduz hospital hits 19, including 3 children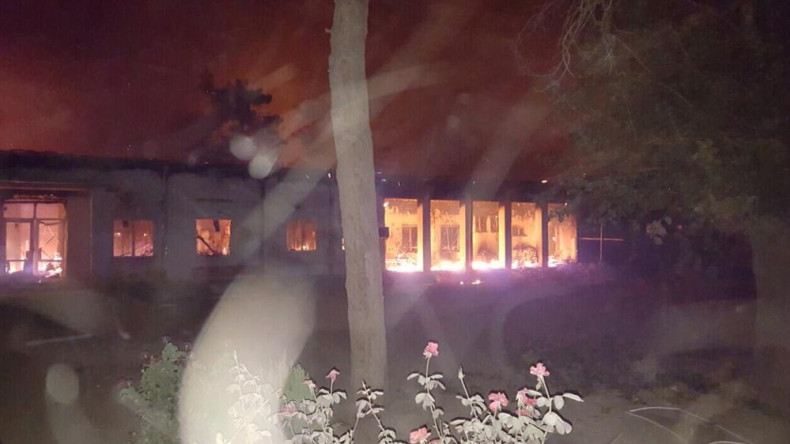 Medical charity MSF (Médecins Sans Frontières) has "condemned" the actions of the US government after its hospital in Kunduz, Afghanistan, was bombed by US forces. The death toll has reached 19: seven patients, including three children, and 12 members of staff.
Some reports have said the death toll amongst MSF staff may exceed 15. At least 37 people were seriously wounded during the bombing, of whom 19 are MSF staff.
MSF has said the bombing of the site continued for more than 30 minutes after US military and Afghanistan's Nato representatives were first informed of the airstrike being carried out. It also announced it had informed both the Afghan officials and the US government of the precise GPS coordinates of the hospital, which was treating 105 people on 29 September.
In a statement MSF said: "MSF wishes to clarify that all parties to the conflict, including in Kabul and Washington, were clearly informed of the precise location (GPS Coordinates) of the MSF facilities – hospital, guesthouse, office and an outreach stabilization unit in Chardara (to the north-west of Kunduz).
"MSF condemns in the strongest possible terms the horrific bombing of its hospital in Kunduz full of staff and patients. MSF urgently seeks clarity on exactly what took place and how this terrible event could have happened."
According to Sky News the first bomb landed at 2.10am local time (10.40pm BST). Nine minutes later, MSF staff rang Nato's offices in Kabul and military officials in Washington, DC. Despite this, MSF say the bombing continued until 3.13am local time.
At a press conference, Afghanistan's Interior Ministry justified the actions of the US forces, by saying that the hospital was treating a group of Taliban insurgents who had been injured in recent fighting.
The charities US office has taken to Twitter to show images of the bombed hospital and stated: "Photos of damage done by bombing of #MSF #Kunduz hospital + staff treating patients in parts still standing."
The charity said that some of the most critically injured were being transferred "for stabilisation" to a hospital in Puli Khumri, two hours' drive away. It also said that there were many patients and staff that remained unaccounted for.
"The numbers keep growing as we develop a clearer picture of the aftermath of this horrific bombing", a statement said.
Like the Red Cross and Red Cresent medical charities, MSF – also known as Doctors Without Borders – has no political affiliations and remains neutral in conflicts, providing medical care to anyone who requires it. The charity does not receive any government funding.