The death toll following yesterday's unexpected eruption of Japan's second-highest volcano, Mt. Ontake, has reached 30, rescuers say. They are believed to have died from a state of cardiopulmonary arrest.
If confirmed, this will be the highest death toll from a volcano in the country for 23 years.
The volcano erupted without warning just before noon local time (3am GMT) on Saturday, 27 September.
Ash was thrown up to 10km into the air and vast clouds billowed 3km down the mountainside, burying everything in their path to a depth of up to 20 inches.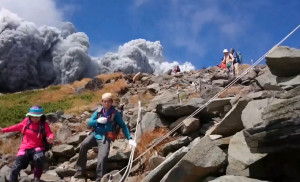 The ash enveloped fleeing hikers, many of whom had climbed the mountain to admire the autumn colours. Some captured the terrifying scenes on video and camera as they fled. Ash was found on cars 50 miles away.
Toxic gasses and fresh eruptions prevented rescuers reaching people stranded on the slopes last nigh. This morning hundreds of rescuers ascended the upper slopes of the 10,000ft mountain in a bid to find 40-50 hikers believed stranded overnight. Although precise details are yet to be released, local officials believe many of them took shelter in cabins at high altitudes.
TV footage showed seven climbers being rescued by a Japan Self-Defense Forces (JSDF) helicopter this morning.
Claims that a woman had died in the initial eruption yesterday were withdrawn last night, an indicator of the confusion and chaos caused by the sudden eruption.
Around 40 people were injured as they fled down the mountain, including several with broken bones.
Journalist Mikio Oguro who witnessed the eruption described vast clouds of smoke billowing from the crater. "Massive ash suddenly fell and the entire area was totally covered with ash," said Oguro, whose crew used lamps to find shelter. "My colleagues later told me that they thought they might die," he told the Japan Times.
This morning, tall grey and white plumes of smoke can still be seen rising from the volcano. The Japan Meteorological Agency say there was little warning of an eruption, though minor quakes in the area were observed in mid-September.
Although natural disasters such as tsunami and earthquakes aren't uncommon in Japan, fatalities from volcanic eruption are relatively rare. The last fatal eruption was in 1991 when 43 people died in a pyroclastic flow at Mount Unzen.