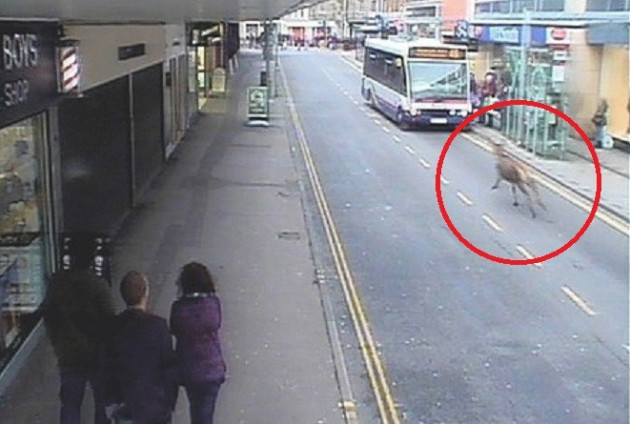 A rampaging deer enlivened the Christmas sales by careering down a high street in an Essex town.
CCTV captured the animal's dash through Chelmsford city centre after reports from motorists on the A12 that a deer was on the looseA search by police and even roadblocks yielded nothing, reported the Essex Chronicle.
That was because by the time went to investigate reports of the sightings on the busy trunk road, the deer was already running amok in the town. The 4ft-high beast floored a young woman in her 20s and she required hospital treatment for cuts.
Mick McDonagh, manager of the High Chelmer shopping centre, said: "It tried to leap over a young lady and hit her.
"She was obviously very shocked. I think she was concussed.
"I don't think she was actually able to talk about it. It was passers-by who told the paramedics what happened.
"It's certainly not something you expect to see."
The deer also butted plate glass window but it withstood the impact.
A spokesman for the East Anglian Ambulance Service said: "We understand the deer, in its attempt to get away, barged into a number of people, sending some to the pavement.
"It also dazed itself when it hit a plate glass window.
A spokesman for Essex Police said: "[The deer] had found its way into unfamiliar territory and did what any wild animal would do in the circumstances."
The deer is believed to have escaped back into the countryside.