Former glamour model Kelly Brook gave a nod to the Time's Up movement by sharing a sizzling picture of herself in a black gown on Instagram.
The 38-year-old star treated her 820K followers with a throwback snap of herself modelling a strapless wrap satin gown featuring a thigh-high split which showed off her famous hourglass figure.
Professionally shot in front of a blue background, Brook seductively glares into the camera with her hands holding her head as she shows off some elegant three- quarter length gloves and bold red lips.
The star, who is currently dating Jeremy Parisi, captioned the shot: "@goldenglobes #TimesUp " in homage to last night's statement of solidarity against sexual harassment at the Golden Globes in LA.
Fans were quick to comment on the alluring picture, with one person writing: "Love this beautiful photo, you are stunning Kelly."
Another observed: "If that was red Jessica Rabbit would have hated you @iamkb."
Another added: "The definition of glamour" while a fourth gushed: "You are an ABSOLUTELY BREATHTAKING BEAUTY from head to toe!!!! ❤❤❤❤❤❤❤❤".
Brook's latest snap comes after the former model claimed her doctor ordered her to lose weight because her breasts had become too large.
Revealing that she has been experiencing back troubles on Friday's Loose Women, she said: "I've been having lots of back problems recently and I went to the doctor and he said, 'I think you might need to lose weight...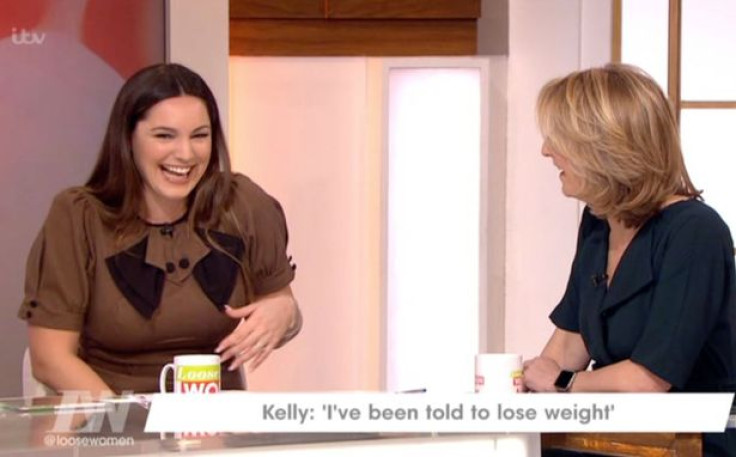 "I was like, 'Really?' He was like, 'Yeah you know you've put on quite a lot of weight, up here [motions to breasts].'
"Because that's where I put it on, on my boobs. So my bras were not supporting me, it's completely thrown my back out."
She added: "So now I'm literally training to try and lose weight off my... so I'm running, but I can't find sports bras so I'm actually just running like this [holding breasts] to try and keep them in place.
"But it is helping, he says if I strengthen my core it's going to support me better. 5pm at night I'm just laid up and I'm in so much pain..."